IWI US, a subsidiary of small arms manufacturer Israel Weapon Industries, last week released a new 'GEN II' version of its Galil ACE assault rifle.
The original IWI Galil ACE was introduced in 2008 as a modernized and improved version of the famous Galil rifle that entered IDF service after the 1973 Yom Kippur War. The original Galil rifle drew inspiration from the legendary Russian AK-47 and the Finnish Valmet RK 62 – but in 5.56x45mm caliber. The Galil ACE made use of modern materials and manufacturing techniques to shave off some weight, featured a full-length Picatinny rail atop the receiver and gas tube, and was made available in multiple different calibers and configurations. It has been adopted for use by nearly 2 dozen countries' forces to-date.

The Galil ACE GEN II from IWI US features several tweaks to the original ACE design that are intended to make it even more user-friendly. Internally, it retains the same robust, reliable, AK-based action that the entire family is famous for.


The Galil ACE GEN II family is assembled in the US from imported and US parts, and features the following changes from the first generation Galil ACE:
Factory iron sights have been deleted from the GEN II Galil ACE
Full length 2-piece Picatinny style top rail
Free Float M-LOK rail forearm
Updated Trigger profile
Updated and shorted safety profile and throw
Rifles ship with a side-folding adjustable telescoping Magpul CTR buttstock and riser (will also accept any other M4 compatible stock)
Pistols with brace ship with SB Tactical SBA-3
Rifles available in 5.56x45mm and 7.62.39mm calibers
Pistols available only in 7.62x39mm caliber
Rifles feature a 16″ barrel length (with a 13″ version allegedly to come later)
Pistols feature an 8.3″ barrel length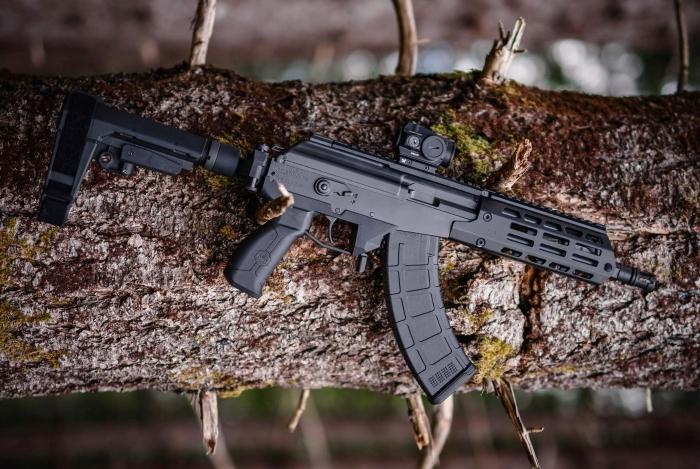 The addition of 7.62x39mm as a full-production offering will no doubt prove to be a wise move, given how popular that caliber is. The replacement of the rather complicated polymer handguard with a free floating M-LOK rail forearm also makes a lot of sense, and the improvements to the trigger and safety sound good too. Deleting iron sights completely from the design however will be perhaps a bit controversial. It is also uncertain at this time if IWI US will also release a 7.62x51mm NATO version, and also if they will continue the 5.45x39mm caliber option from the original ACE family.

All in all however it looks like a great upgrade to a well-proven, warhorse of a design. It turns the ultra-reliable AK-action into a platform that has all the ergonomic improvements and performance handling of both the Galil and AR. That seems like a pretty awesome combination.
Visit IWI US for full details.