Speaking of retro rifles, one of the most exciting things we've seen come out of SHOT Show 2020 so far is the confirmation from Robinson Armament Company that they are indeed bringing back their ode to the Stoner 63 Rifle – the M96!

The Robinson Armament Company M96 Expeditionary Rifle, Recon Carbine, and Bren Gun is a .223 Remington platform based on the Stoner 63 weapon system, and feeds from any STANAG compatible M16/AR-15 magazine. The M96 was designed to be modular and configurable like the Stoner, but the M96 has a somewhat different internal mechanism, and is semi-auto only. In fact, no internal parts can be swapped between the M96 and the Stoner 63; however, it is nearly identical in external appearance to the Stoner 63.
The M96 uses an adjustable gas system with a long-stroke piston connected to the operating rod and bolt carrier. The M96 bolt is a six-lug design similar to an AR-15 bolt, but with larger, stronger lugs. The bolt carrier has also been specially designed for strength, and a low cyclic rate for improved reliability. The M96 receiver is stamped stainless steel, and the barrels have 1-in-9 twist ratio.

Production of the M96 series stopped in 2012 and Robinson Armament Co. concentrated on its XCR modular rifle platform instead – which had been originally developed for the USSOCOM SCAR competition. The M96 series generated quite a bit of interest originally due to its visual similarity to the Stoner 63, but just like the 63 it found it very difficult to compete against the massive market dominance of the AR-15 platform. In particular, the modularity, customization and volume of accessories available for the AR platform are far outweigh what the M96 could do. The M96 did develop an extremely loyal following however, and its fans have been clamoring for Robinson Armament to restart production almost from the moment it ceased.

It looks as if their prayers have been answered at last… Robinson Armament posted a photo on their Facebook page at the beginning of this week showing an M96 in the top-feeding "Bren Gun" configuration on display at the SHOT Show (Booth 20435). This immediately set their page alight with questions about whether Robinson was planning on bringing back the M96. The company has now confirmed that they will indeed be releasing another production run of the M96 in about another month, and that more information will be released soon.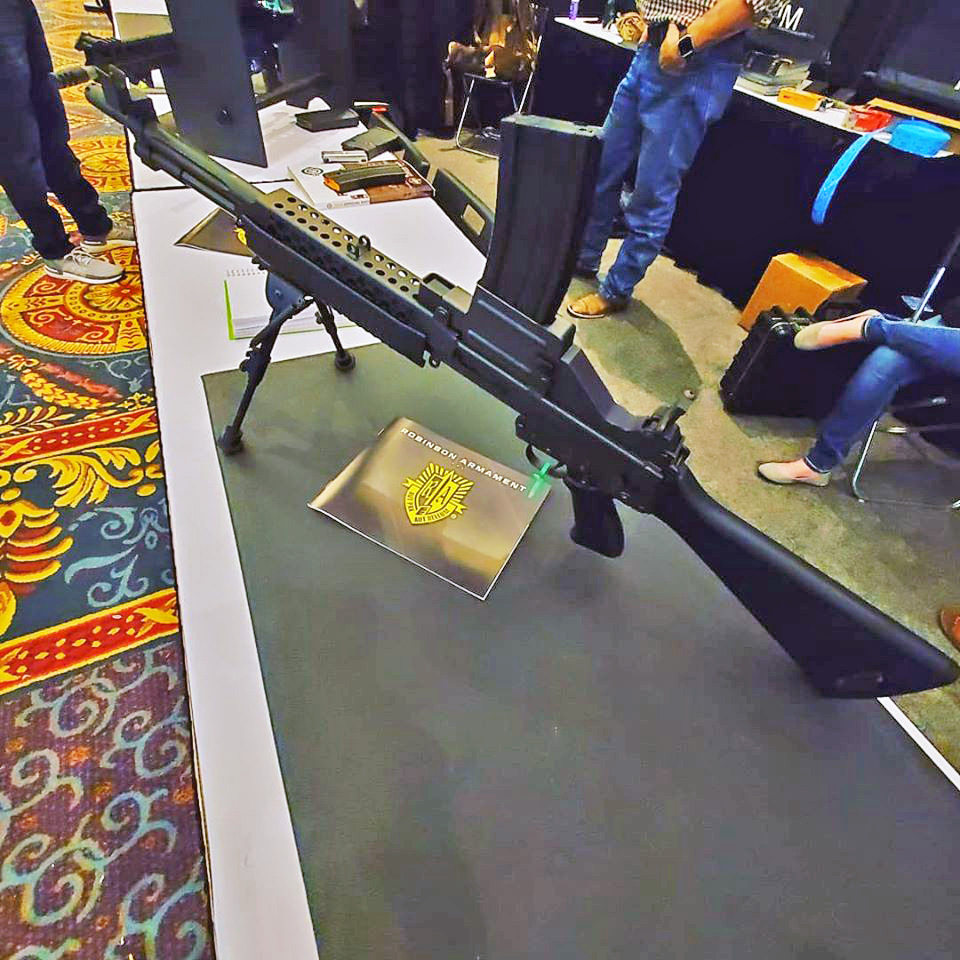 We can only hope that the price point and accessory-mounting options on this new production run will make the rifle even more attractive as an alternative to the saturation of the AR-15 platform in the market.
Stay tuned…. robinsonarmament.com/m96