Hogue has added a couple of new models to their line of slip on rubber pistol grips: the HandALL for SIG P365-XMacro and Taurus GX4 and XL handguns.
The manufacturer says,
"Continuing the expansion of Hogue's HandALL grip sleeve line, models are now available for the SIG SAUER P365-XMACRO and the Taurus GX4 & GX4XL. The Advantages of Houge Beavertail grip sleeves are evident upon installation.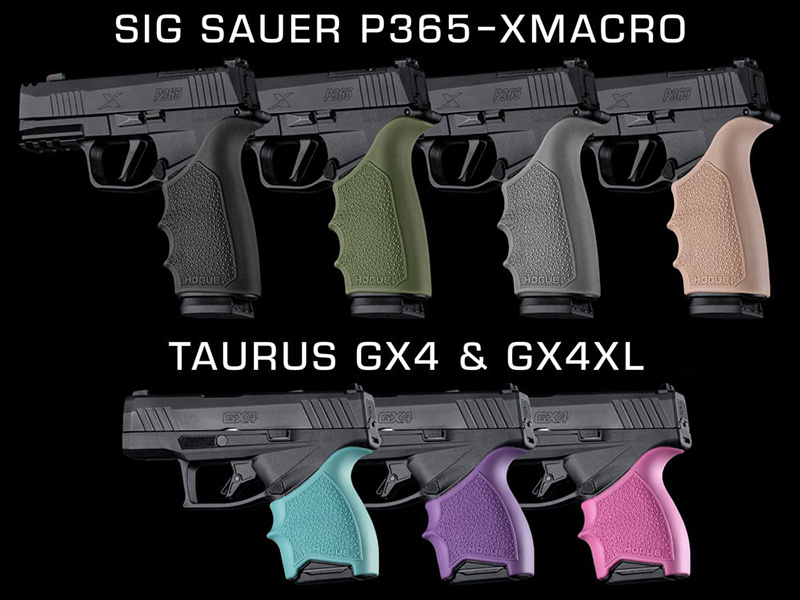 Perceived recoil is significantly reduced by Hogue's renowned ultra-soft rubber. The Beavertail feature provides added protection for the purlicue of the hand, and the finger grooves allow consistent grasp and secure hold.
While it has become common for shooters to resort to stippling to upgrade the factory texture of polymer pistols, this practice ultimately compromises the original condition of the firearm's frame. To avoid this irreversible trade-off, Hogue has perfected their Beavertail grip sleeve design to ensure a long-lasting, yet non-permanent alternative that will greatly enhance the shooters' grip experience."
Hogue Slip On Rubber Pistol Grips
P365-XMACRO / Taurus GX4 HoldALL
Production sleeves for both pistol and rifle grips have been around for a very long time. Although the increasing popularity of grip stippling has grown significantly there a huge market for them. One of the biggest groups of users is those who don't want to (or who are forbidden to by policy) alter the original factory condition of their pistol frame; at least not permanently. Hogue Grips are a good, reversible way to achieve grip modification to someone's preferred level of texture.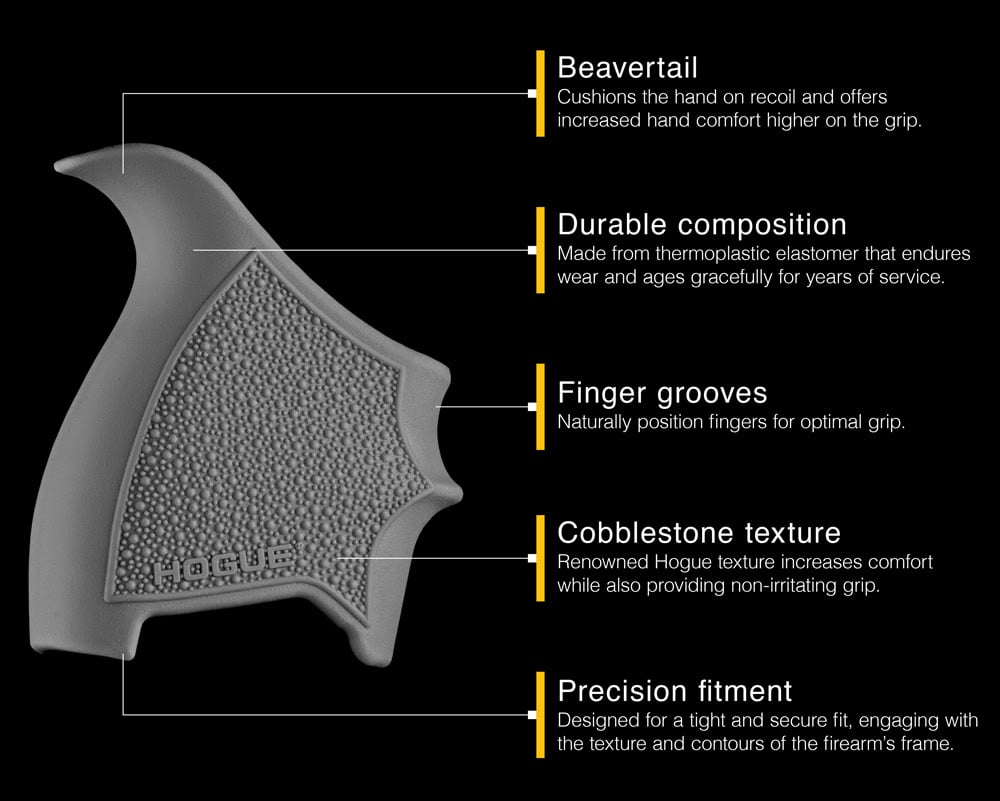 Grip sleeves also have other advantages. Most are not easily quantifiable, and not everyone will agree with them, but as long as people continue to use them we'll know they have something to ovver.
The most significant advantage is that of an improved, more comfortable and effective grip by the master hand. This can be broken down into some specific points:
Finger grooves are intended to position fingers for optimal grip (though admittedly "one size fits all")
Texture for maintaining a grip in slick conditions
Beavertail to protect the shooting hand purlicue (that's the stretch between the thumb and index finger)
Softer material for grip = more comfort
Color palette available to match or contrast a weapon's finish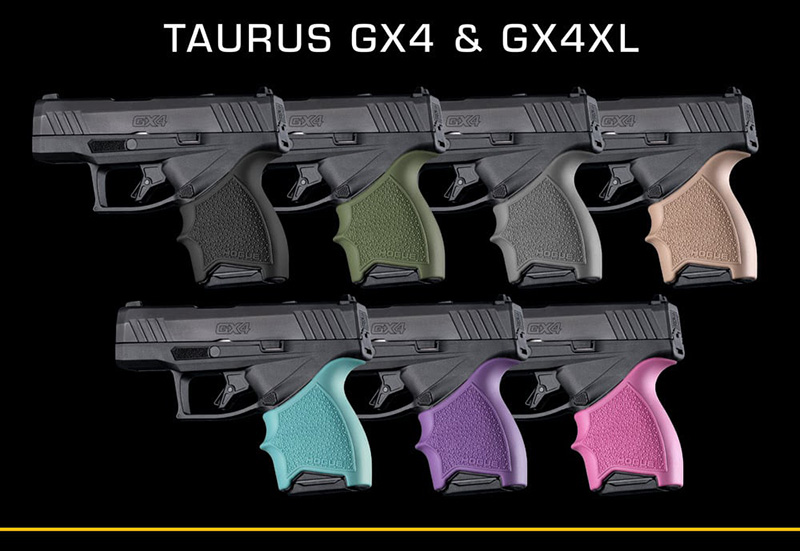 Read more on Hogue's slip-on rubber pistol grips.
You can find a selection of Hogue products in stock right now at GunMag Warehouse, Optics Planet, or Palmetto State Armory.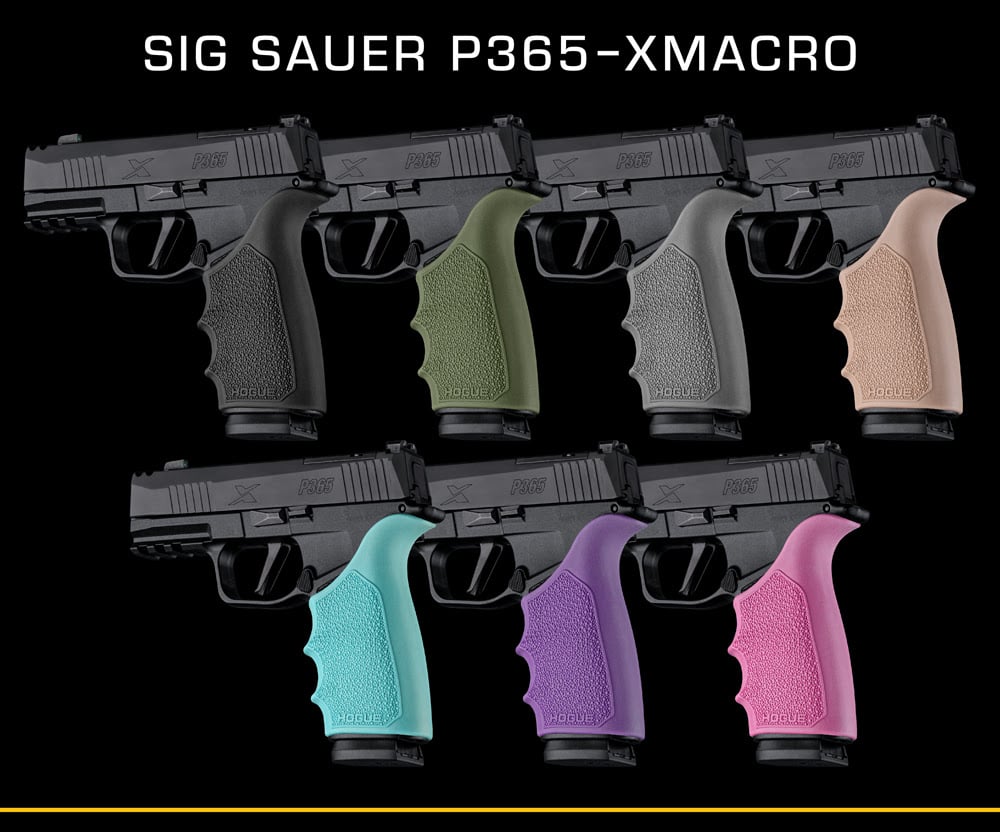 Find the original article in its entirety at Guns and Tactics.