"Double down. Bang it twice…every single time!"
That's how the website Tactical Sh!t announced it is taking pre-orders for the G-Flex "warlord class" trigger; it's one of the first binary triggers available for Glock (or any) pistols. How it compares to others, we're not sure, we're passing along news of the release until we get one to try out.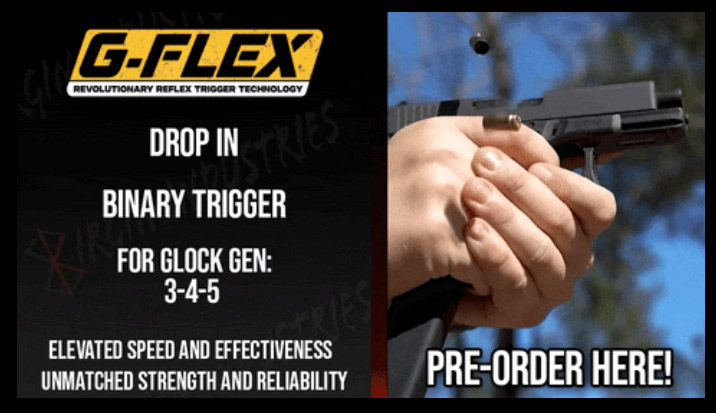 They explain the G-Flex "trigger for warlords" thusly:  
The G-Flex is engineered with Reflex Trigger Technology. It fires one round when the trigger is pulled rearward, then a second "reflex" round when the trigger is released forward. This provides the potential for lightning-fast split times and unmatched performance in your Glock handgun.
The G-Flex is manufactured from professional-grade materials and designed for easy drop-in installation. The G-Flex is manufactured with aerospace-grade stainless steel and is built to perform under pressure and hard use. You'll harness elevated speed and effectiveness with unmatched strength and reliability.
The G-Flex has been engineered with what the ATF wanted; a patented secondary DISCONNECTOR makes it physically impossible for the G-Flex to achieve automatic firing.
Components:
·         Trigger Bar
·         Enhanced Bar Guide
·         Trigger Return Spring
·         Trigger Housing
·         Trigger Shoe
Specifications:
·         Style: Reflex
·         Model: G-Flex
·         Platform: GLOCK 17, 19, 22, 23, 26, 27, 19X, 45, 47, 31, 32, and 33
·         Fit is generation specific
·         Weight: 5 ounces
·         Material: Aluminum/Steel
Learn more about the G-Flex binary trigger for Glocks as info becomes available. 
Be sure to check out the SHOTS FIRED podcast!