The South African Defence Forces Pattern 83 Battle Jacket is one of the all time classic web gear designs of the 20th Century – and was in its day quite revolutionary too. Virtually all other individual load carrying rigs of the time were based on the same basic belt-and-braces approach that had been used since the early 1900's.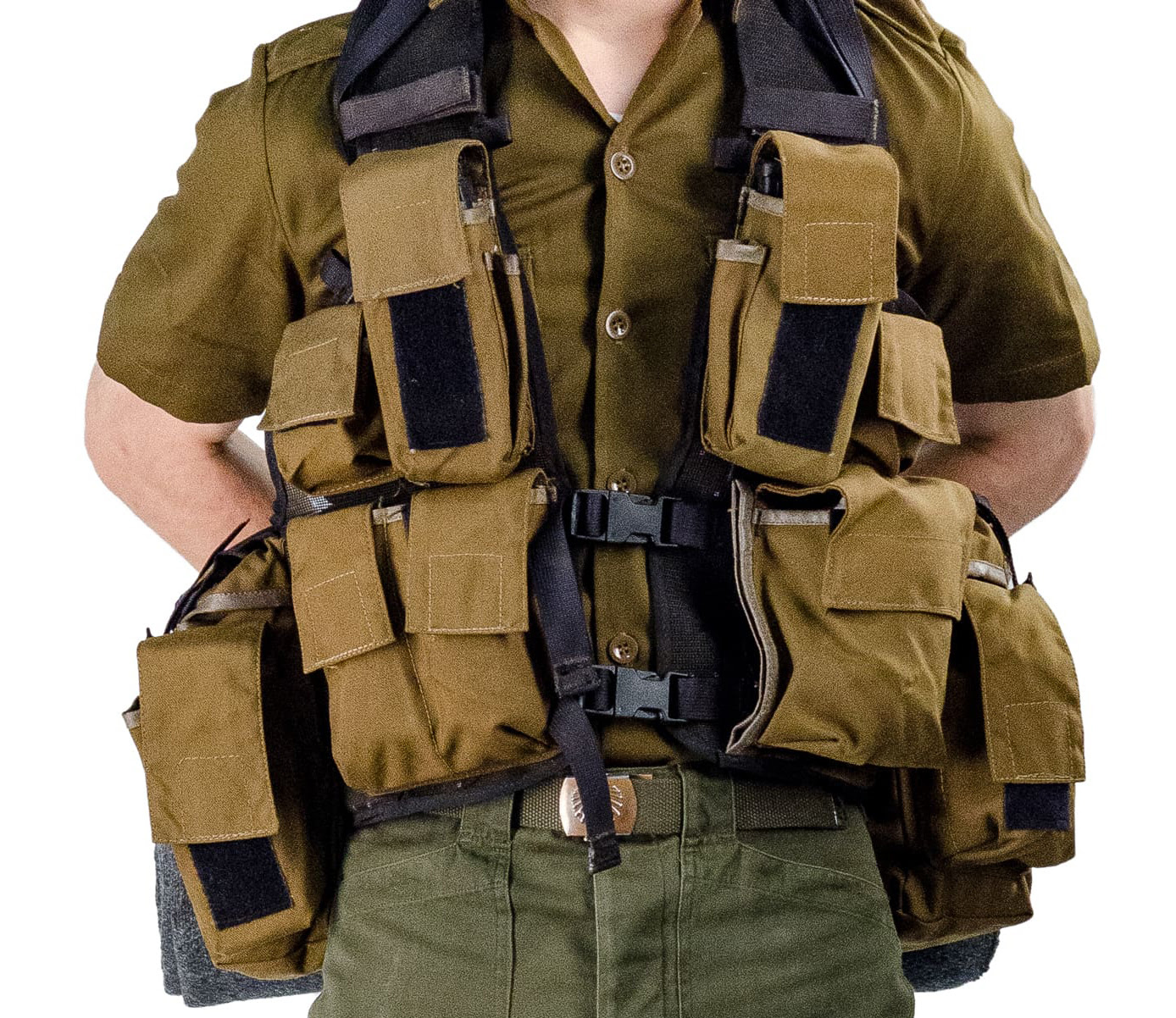 While all-in-one 'tactical waist coat' designs like the British Battle Jerkin and the American Assault Vest had been tried out during WWII, after the war both countries reverted to a belt-and-braces platform to which individual pouches could be attached as needed. The Rhodesians and Israeli's had also developed different styles of fighting vests and belt-harness systems. The South African Defence Forces meanwhile used a home-grown derivative of the British Pattern 58 web gear during the 1960s and '70s, but the many shortcomings of this approach were becoming painfully obvious.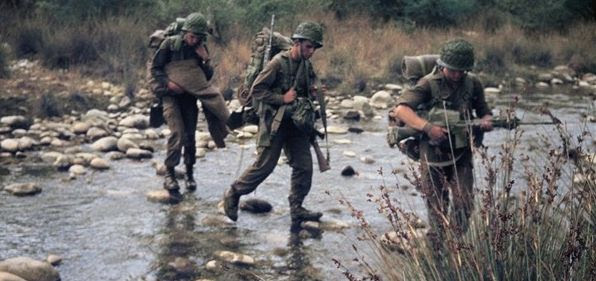 Throughout the 1960's and '70's white-minority ruled South Africa was fighting a desperate counter-insurgency battle against black nationalist insurgents within its own borders and territories. They also had to contend with incursions along their northern borders from guerrillas and insurgents of various factions from neighboring countries as well. As most operations of the South African Defence Forces tended to be patrols, recons, raids, and search-and-destroy missions they needed a battle rig that could carry the essential food, water, and first aid items, as well as a lot of ammo.
The Pattern 83 Battle Jacket was the result and became one of the most iconic fighting load carrying systems ever developed. To this day it remains in use around the world, and originals are much sought after. So it was kind of a big deal when our friends at KOMMANDOSTORE sent out an email a few days ago announcing that they had just received a shipment of original Pattern 83 Battle Jackets in exceptional condition. To mark the occasion, they also provided an informative background and overview of the Pattern 83 Battle Jacket – it follows below:
For a little over 2 decades, South Africa's northern border was a hot place to be. A litany of Communist-backed insurgent groups waged a fast moving, asymmetrical war against the South African Defense Force (SADF) from 1966 to 1990. Outdated web gear slowed the interdiction of these insurgents, so in the late 1970's a new load bearing system was devised to the meet the evolving needs of the SADF… Pattern 83.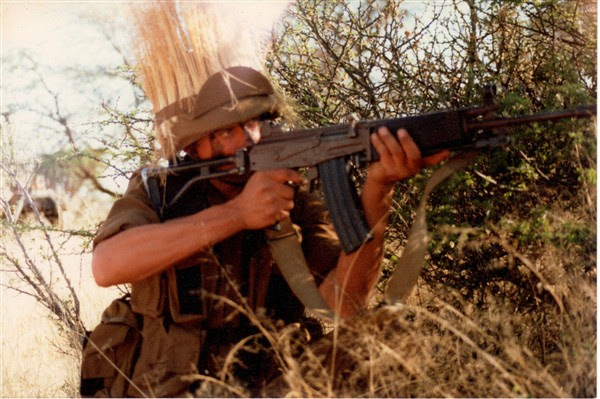 Designed with the assistance of South Africa's outdoor industry, P83 was modern, lightweight, and highly ergonomic. The South Africans designed the P83 systems to be lightweight, high capacity, and virtually bomb-proof. And when it came to materials, the SADF was years ahead of the competition. dyed Cordura nylon, polymer fastex hardware, and hook and loop closures were all cutting-edge tech in the late 70s and early 80s. In fact, P83 style rigs were a staple in some elite circles all the way through the early 2000s.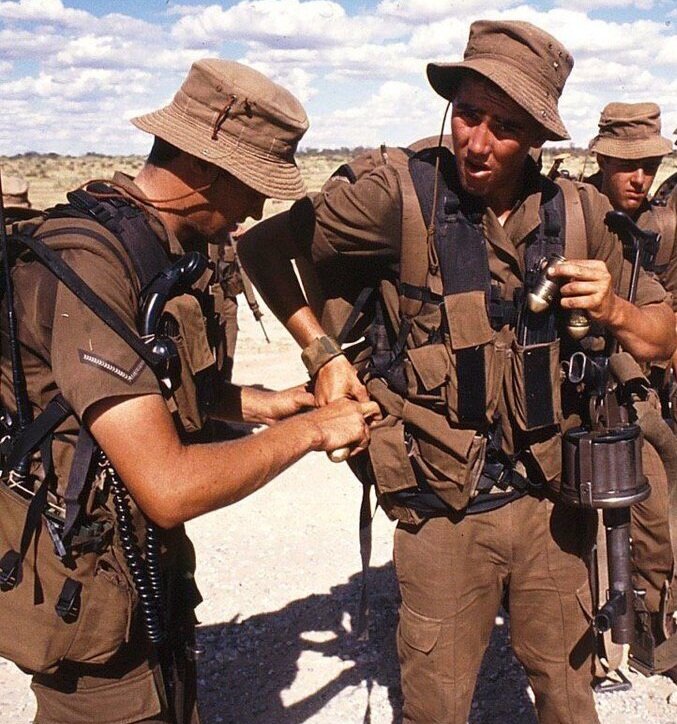 An iteration of the Rhodesian "Fireforce" vest, the Pattern 83 Battle Jacket is an assault pack and chest rig in one. Capable of sustaining one soldier for 2-5 days, the Battle Jacket is spacious, comfortable, and surprisingly unobtrusive. The iconic "Nutria brown" pouches on the vest are made of a waterproofed Cordura nylon. The "body" of the vest is a padded breathable nylon mesh which distributes weight evenly across your shoulders, back, and hips.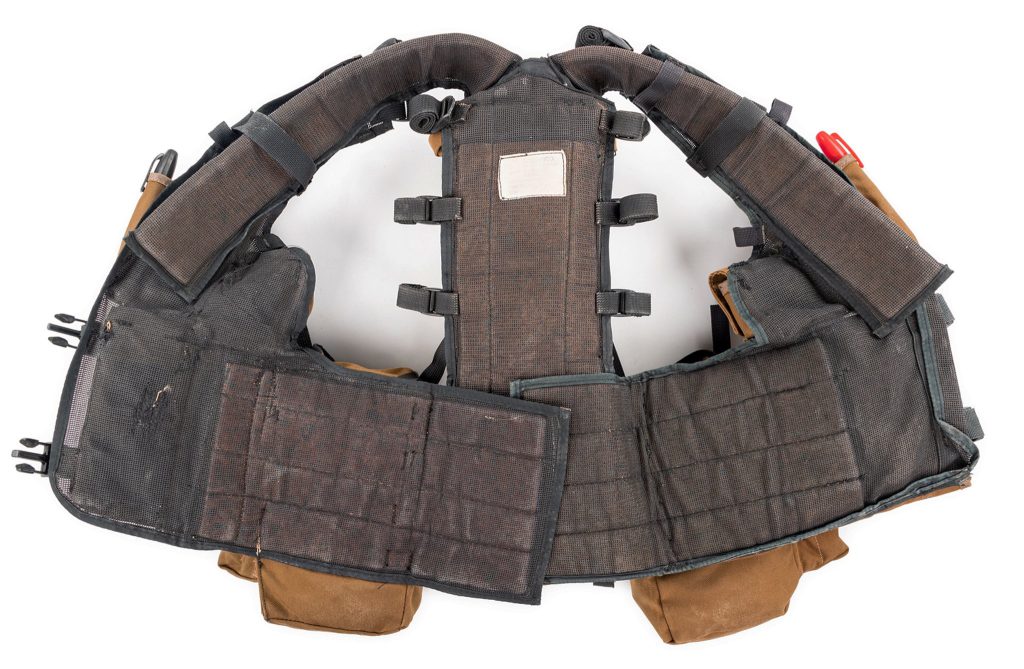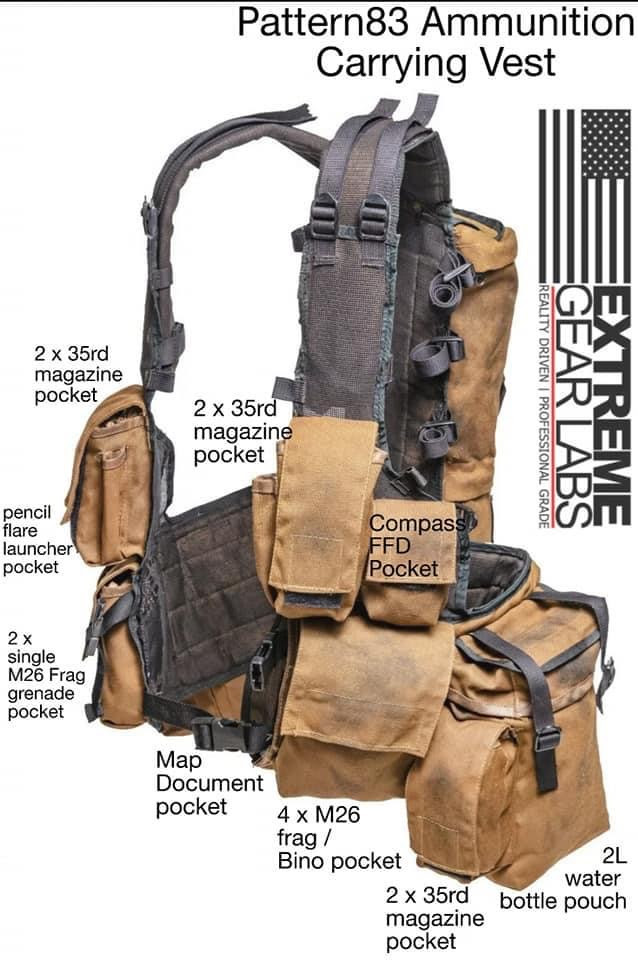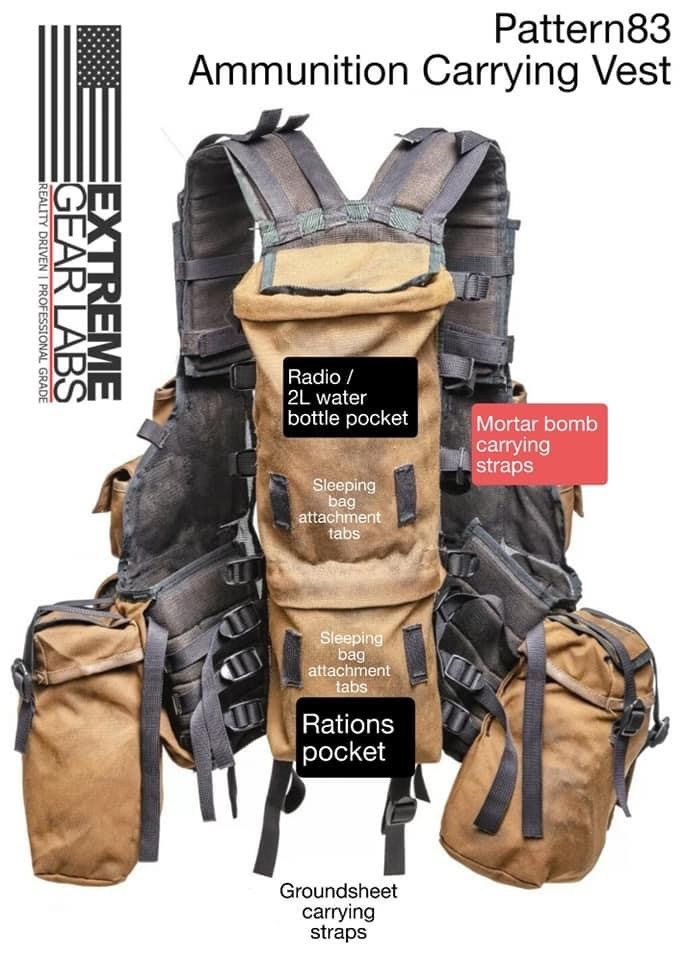 Specs
Waterproof, durable Cordura nylon with nylon mesh webbing
Nutria brown color, designed to get dirty and build a natural camouflage
Padding along shoulders, back and hips
Webbing can be adjusted and secured with buckles to fit all sizes
Pouches
Five double magazine pouches, compatible with STANAG 5.56 pattern magazines, as well as Galil, and AK 5.45 and 5.56 magazines.
One large front pouch
Two large canteen side pouches
Two small side grenade pouches
Large "backpack" pouch with two compartments
Sure, the large carrying capacity is useful. But what truly sets the Battle Jacket apart is how it distributes the weight of your equipment. The layout is thoughtful, and the battle jacket hugs close to the body. This unique design makes for a seamless transition between a patrol and assaulting a position. When properly fitted there are no awkward imbalances or 'sloshing weights' to break your stride.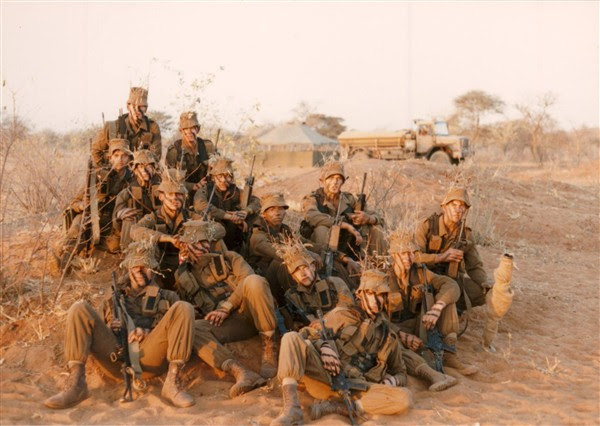 In October 2015, Pattern 83 was finally discontinued by the South African Defense Force and surplus supplies of items in excellent condition are becoming quite rare and hard to find.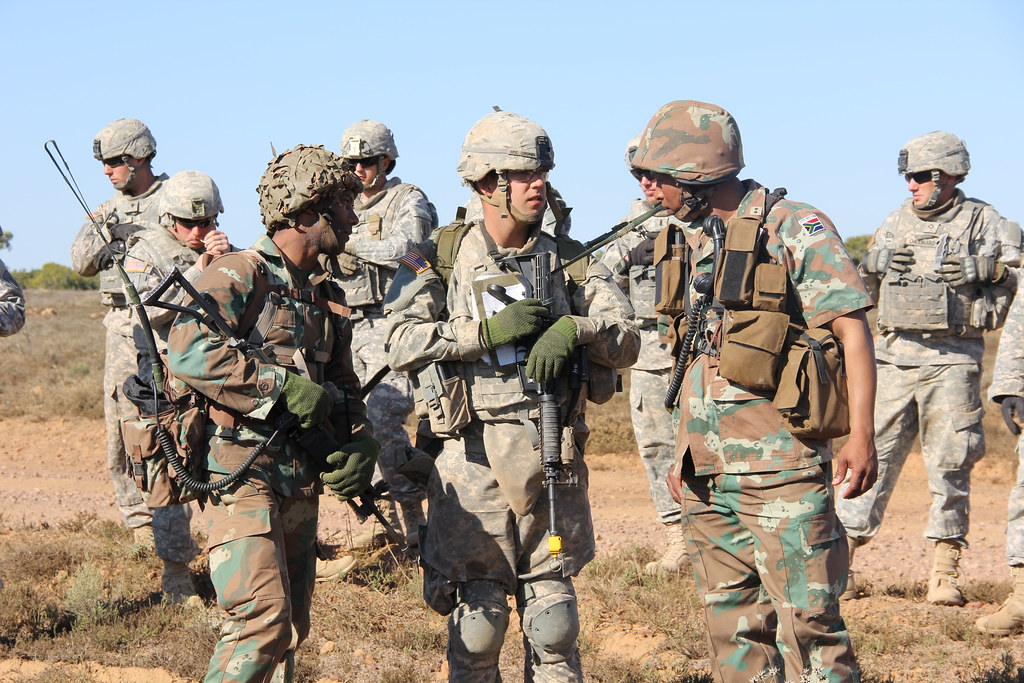 If you want to jump on this opportunity to get your hands on some now while you can, check out the Pattern 83 Collection from KOMMANDOSTORE.