Primary Arms Optics has received six new ratings from the National Tactical Officers Association (NTOA), which evaluates products based on their performance in tactical law enforcement applications.
The NTOA's testing draws from real-world performance, evaluating products by their build quality, ease-of-use, design features, and practicality for law enforcement operations. These tests cover weeks of analysis and trial usage, grading products according to at least 6 of 13 major evaluating criteria. To pass, the product must average at least a 3 across all criteria. Special recognition is granted to products that perform exceptionally well, achieving 'Silver' rating with a 4-4.49 average, or a 'Gold' rating with 4.5+.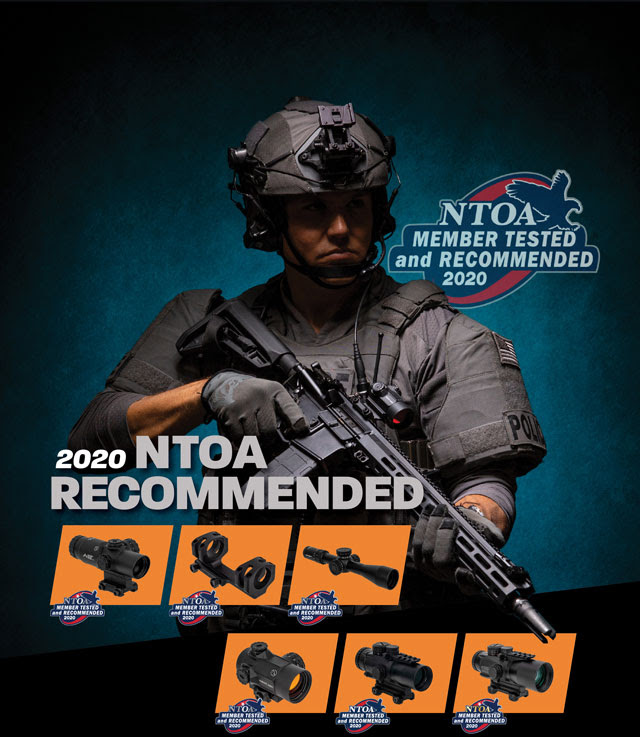 The 2020 ratings for Primary Arms included the SLx® 3x Gen III Prism, the SLx 5x Gen III Prism, the SLx MD-25 Red Dot Sight, the GLx® 2x Prism, the GLx 2.5-10×44 FFP Rifle Scope, and GLx 30mm Rifle Scope Mount. The SLx 5x Gen III Prism with ACSS Aurora® M 5.56 Reticle received a gold-medal recognition, the highest possible ranking with an average score of 4.52 out of 5. Evaluating officers noted the 5x Prism's durability and image quality, which is supplemented by a versatile magnification and intuitive reticle design.
"We're proud to see that this year's new products performed well with the National Tactical Officers Association," says Terry Mears, Primary Arms' Director of Product Marketing. "Law Enforcement is one of our highest priorities in developing new products that exceed expectations. The NTOA's ratings confirm that we're bringing professional-grade quality and technology at consumer-friendly pricing."
For more information about these products or for ordering information, please visit the Primary Arms online retail site or your preferred Primary Arms Optics retailer.