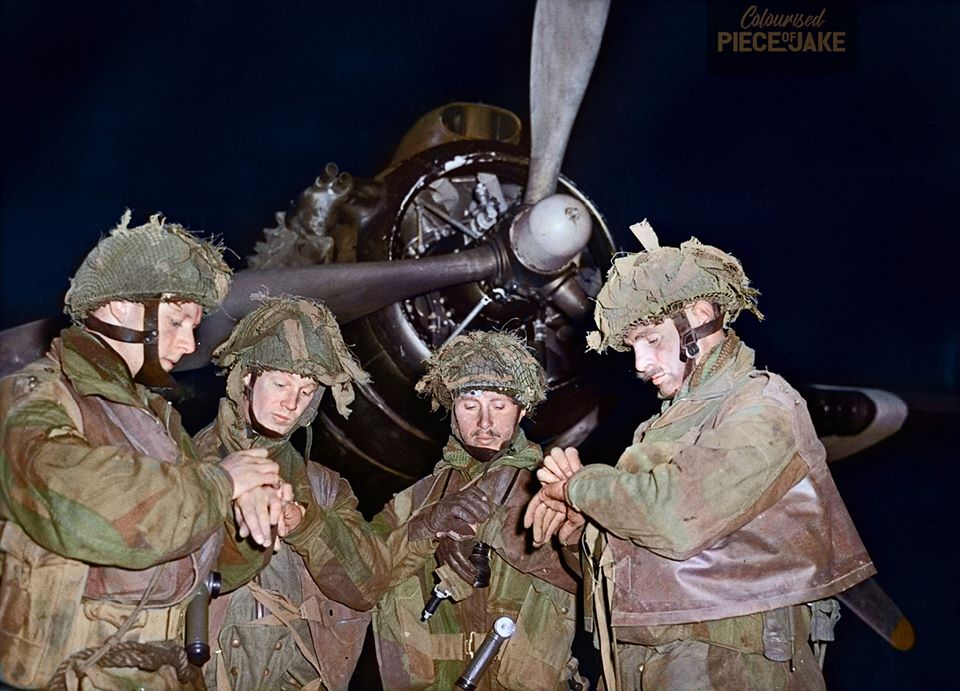 23.30hrs 5th June 1944 – The Final Embarkation:
Four 'stick' commanders of 22nd Independent Parachute Company, British 6th Airborne Division, synchronising their watches in front of an Armstrong Whitworth Albemarle of 295 Squadron, No 38 Group, Royal Air Force, at about 23.30 on the 5th of June, just prior to take off from RAF Harwell, Oxfordshire.
This pathfinder unit parachuted into Normandy in advance of the rest of the division in order to mark out the landing zones, and these officers, (left to right, – Lieutenants, Bobby de Lautour, Don Wells, John Vischer and Bob Midwood), were among the first Allied troops to land in France.
The stick parachuted onto the DZ shortly after midnight, and came under heavy fire almost immediately on landing.
They were tasked with 'marking' the drop zone for the 1st Canadian and 9th Parachute Battalions at DZ "V", but all the radar and visual beacons were either lost or damaged. Nevertheless, they were successfully able to join up with Lieutenant-Colonel Terence Otway's 9th Battalion, prior to the assault on the Merville Battery.
Bob Midwood sustained injuries while jumping onto the DZ but continued to take part in operations including commanding a patrol to protect a REME recovery section working on an LZ and marking drop zones for supply drops.
He was evacuated to 86 General Hospital on 19 June to have his injuries treated.
Bob Midwood returned to active service and was wounded for a second time, in January 1945, during the Ardennes campaign.
Acting Captain de Lautour died on 20 June 1944 aged 27 years old, from wounds sustained earlier in the Normandy conflict. He was awarded a posthumous Mention in Despatches on 22 March 1945, for actions in Normandy. He is now buried at Ranville War Cemetery, Normandy.
Colour: Colourisedpieceofjake
Photo credit: © IWM H 39070
Source: WW2 Colourised Photos