Published to mark the battle's 25th anniversary and using recently declassified documents and new interviews with many of the participants, "Day of the Rangers" is a fascinating and revealing new history of a battle that would influence American Special Forces for decades to come.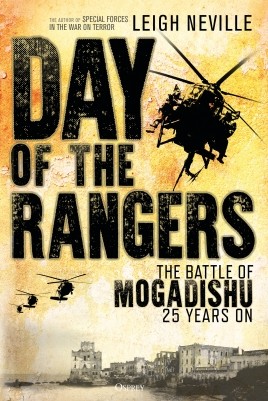 On October 3, 1993, Task Force Ranger was dispatched to seize two high-profile lieutenants of a Somali warlord. Special Forces troops were transported by ground vehicles and helicopters, and the mission was meant to be over within the hour. They quickly found themselves under heavy fire, and two Black Hawk helicopters were shot down. With a hastily organized relief column many hours away, the American troops faced a desperate battle for survival.
Focusing on the stories of the soldiers on the ground, and in the air, Day of the Rangers reveals the experiences and recollections of the Special Forces units, including the Rangers, Delta operators and Nightstalker crews who fought in the battle of Mogadishu.
Leigh Neville is an Australian national who has written a number of books on both modern conventional military units and special operations forces serving in Afghanistan and Iraq, their weapons and their vehicles, including Modern Snipers and Special Forces in the War on Terror.
"Day of the Rangers: The Battle of Mogadishu 25 Years Later" is available now directly from Osprey Publishing, or from other good booksellers online and in-store.