B&T is a small but well-respected company from Switzerland that has equipped numerous European police and military forces over the years. In the US they are probably best known for having won a (small-scale) contract in 2019 for their APC9K sub-machine gun to be used as the US Army's sub-compact weapon (SCW) in close protection work.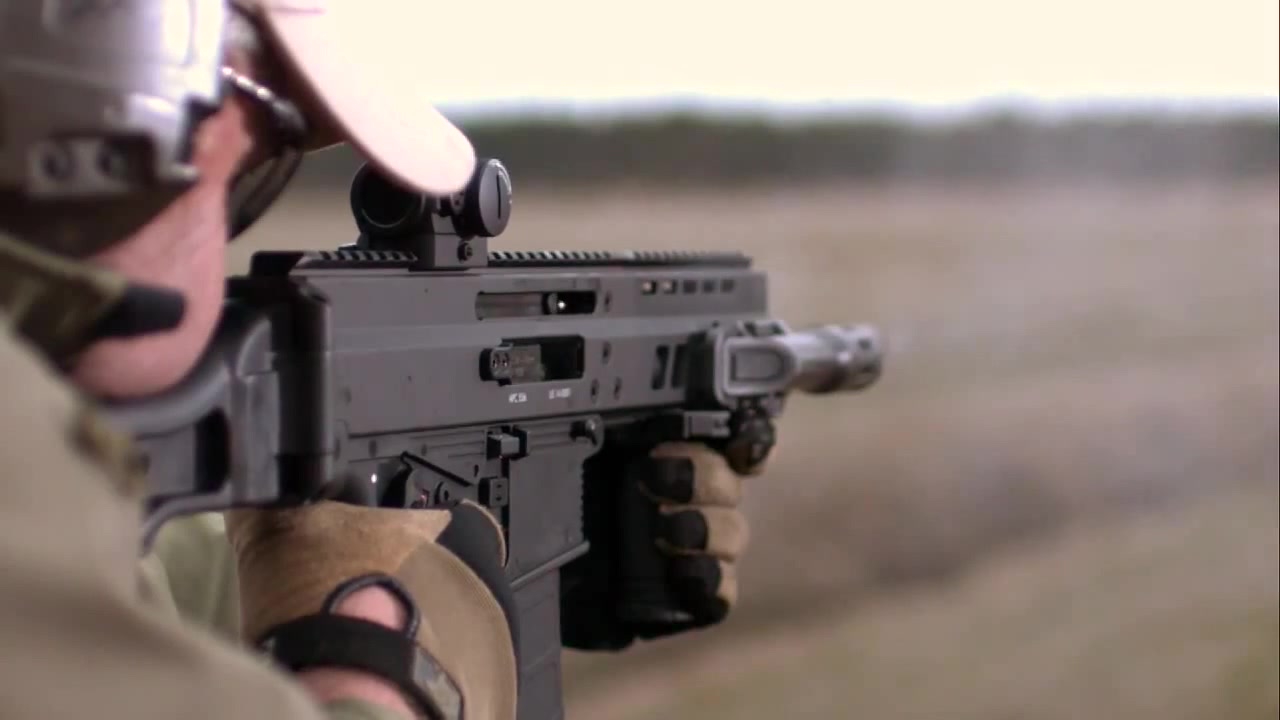 The Advanced Police Carbine (APC) is a family of firearms produced and manufactured by B&T (formerly known as Brügger & Thomet) of Switzerland which has expanded beyond the first sub-machine gun models introduced in 2011. In fact in 2015 the 5.56x45mm / .223 selective-fire APC556 Assault Rifle and the semi-auto APC223 were first shown at the SHOT Show in Las Vegas, Nevada, USA. The APC556 includes both a 'long barrel' and 'short barrel' version (or rifle and carbine versions to use common terminology), as well as a compact PDW (Personal Defence Weapon) with a significantly shortened barrel and a sliding buttstock.



The APC223 series also a 'Match' model with a longer barrel for better accuracy and longer range, and a pistol version where the buttstock is removed and replaced by an end cap with a sling swivel.


The full suite of APC assault rifles also includes the APC300 carbine in .300 Blackout calibre, as well as 7.62x51mm / .308 models in a long-barreled Designated Marksman Rifle and a short-barreled carbine version..
Many viewers might be tempted to take one look at the APC rifles and dismiss them as either a SCAR derivative, or a mash-up between the CZ BREN and the Robinson Arms XCR. This would of course be overlooking the obvious high quality of the APC rifles, as well as their more subtle and unique features – such as the use of a hydraulic buffer to lessen felt recoil, and the suppressor-ready adjustable gas regulator. Unlike AR-style rifles, the stock of the APC is a full-folder for extra compactness when carried in a vehicle, boat, aircraft, or go-bag. The APC's stock also has a slimmer profile than the SCAR or ACR, which also helps in the compactness stakes.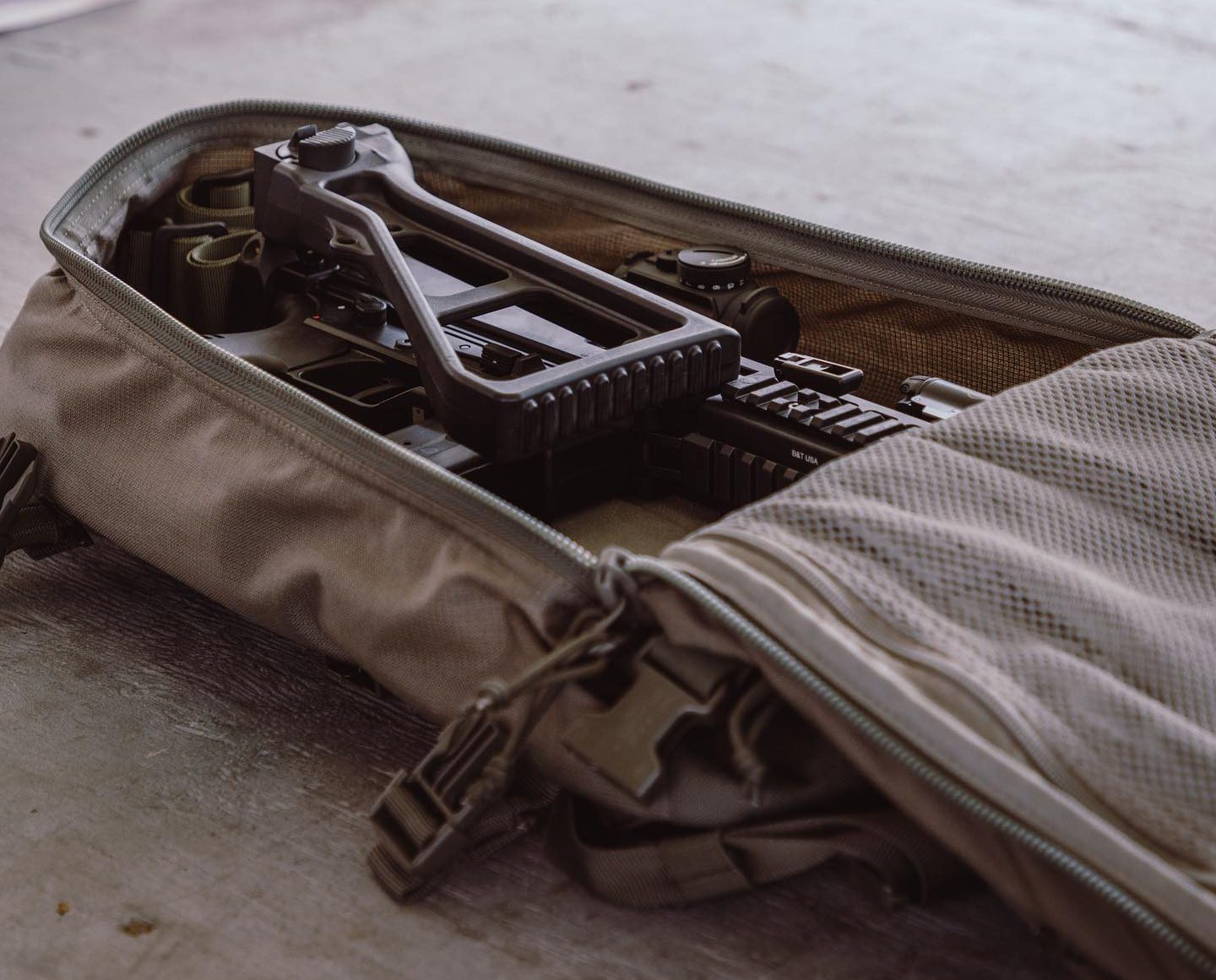 In terms of operation, the APC uses a short-stroke gas piston mechanism with a bolt and carrier group in the same vein as the AR-18 / G-36, and feeds from STANAG magazines (the rifles ship with MagPul PMAGs apparently).  The upper receiver and handguard are machined from extruded aluminum, while the lower receiver (including fire control group, pistol grip, trigger guard and magwell) is made from molded reinforced polymer. The trigger mechanism is an improved AR type that is not interchangeable with AR FCUs, while the fire selector switch is ambidextrous and follows the HK style and layout. Finally, the magazine release and bolt-hold-open/release buttons follow the standard AR pattern, so AR users will be able to easily transition to using the APC.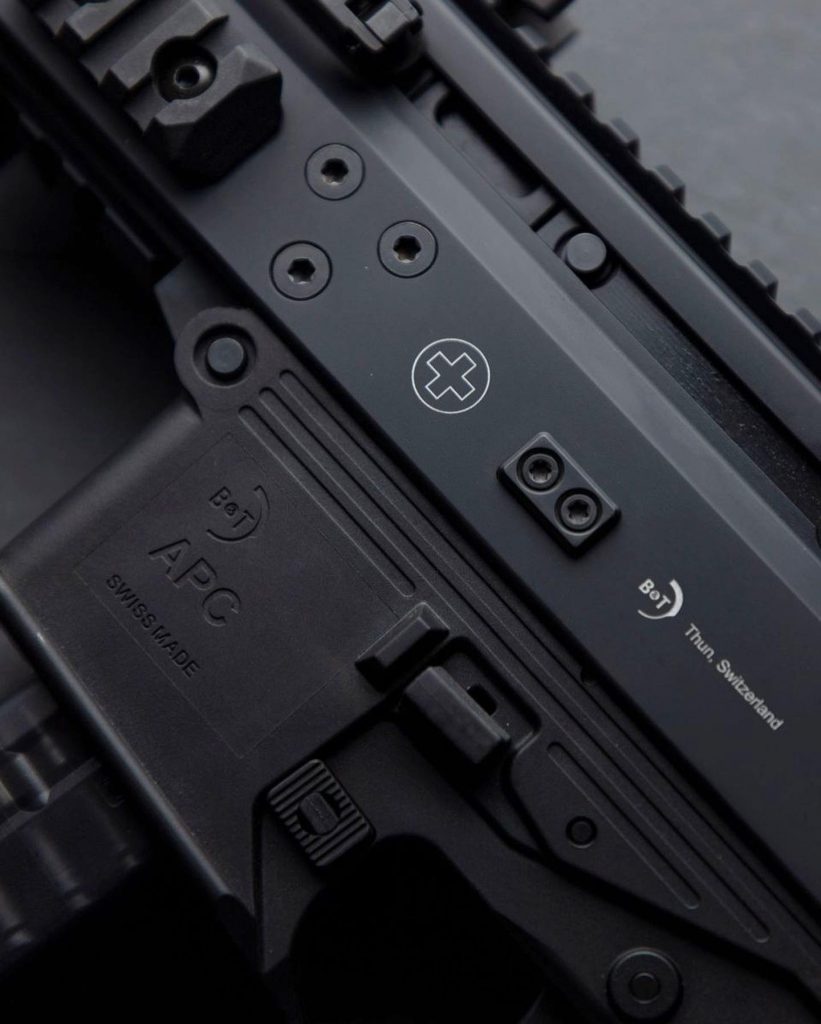 As to sales and use of the ACP series of rifles, B&T doesn't appear to have had as much success with this line as they have with their other firearms. Perhaps this is due to the practically monolithic hold on the market that the AR platform has achieved over the last couple of decades, perhaps it is due to the relatively higher price of this slice of Swiss precision, or perhaps it is because B&T seem to be marketing the rifle much more towards the police market instead of the military. Police units also don't tend to make, or get, as much as much publicity about their firearms purchases as military users do. Whatever the reason(s), is definitely a breath of fresh air and does seem to have a pretty dedicated core of followers. In the video below you can see what initial impressions Larry Vickers had of it back in 2015 – and look at how rock solid the rifle is while shooting…
So that's a look at the real-steel situation, what about airsoft? To try and get the low down, I pinged a contact I have at ActionSportGames – the official airsoft license holder for B&T – as I figured they would know. Of course due to confidentiality reasons they couldn't tell me anything about their longer term plans, but they did clue me in on a sub-licensed APC556 replica that was recently released for the Asian market (i.e., Japan-only apparently).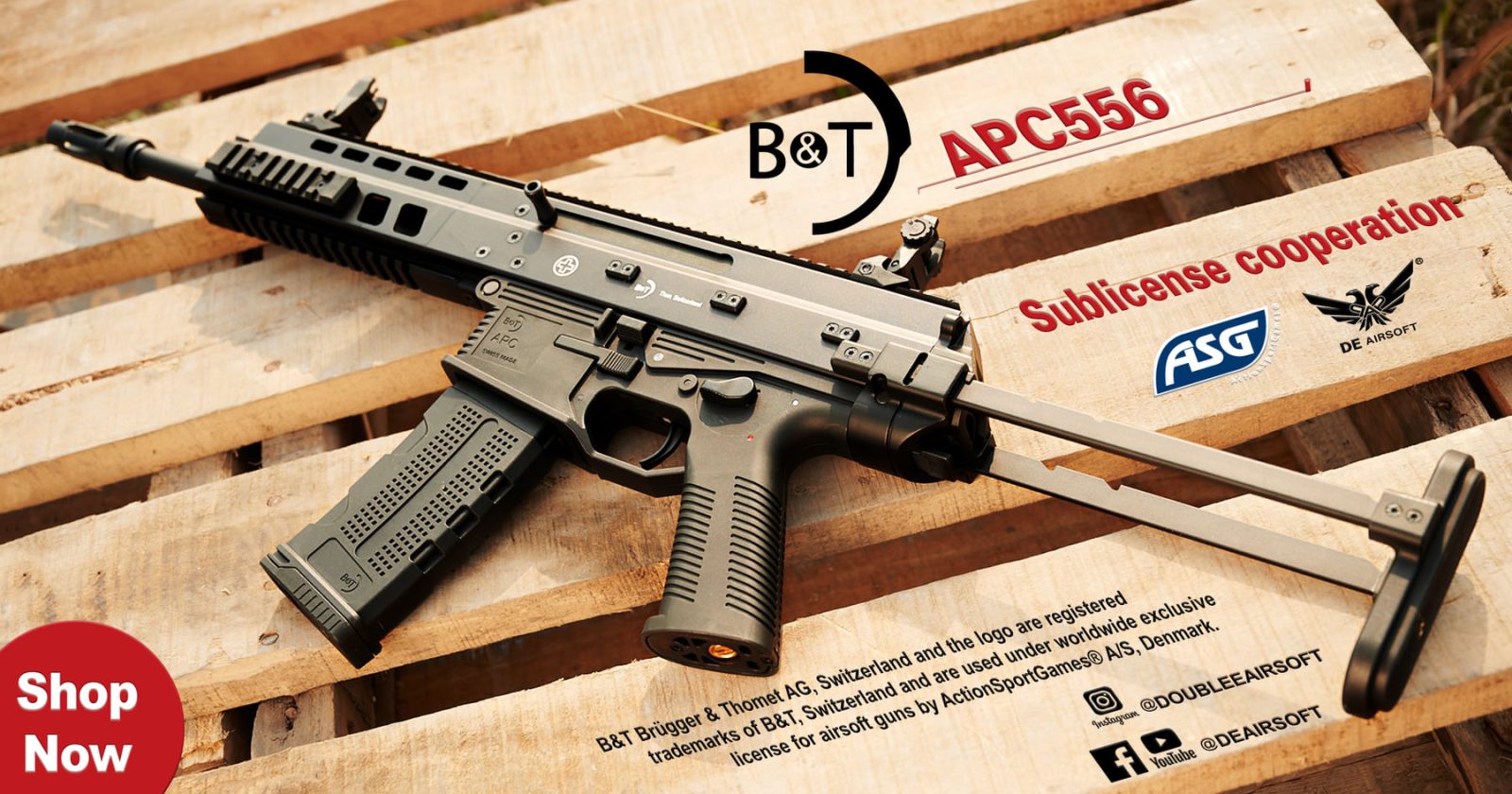 This is the APC556-PDW model made by Double Eagle Airsoft Ltd. (aka, DE Airsoft). in China. As you can see, all markings and trademarks are present and correct, and the detail and finish of the replica looks very good. Interestingly, just as B&T isn't one of the big names in the small arms world, neither is DE Airsoft in the replica world. So who is "Double Eagle Airsoft Ltd." exactly?
Located in Fujian Province in southeastern China (right across the water from Taiwan in fact), Double Eagle Airsoft has been known only as a manufacturer of cheap springers and LPEGS. Now branded as DE Airsoft however they appear to be on a mission to raise their game and become a noteworthy manufacturer of quality AEGs. Not only has DE Airsoft clearly made great strides in improving their quality, their AEGs also feature the company's new trigger-controlled Falcon firing system that offers 5 firing modes.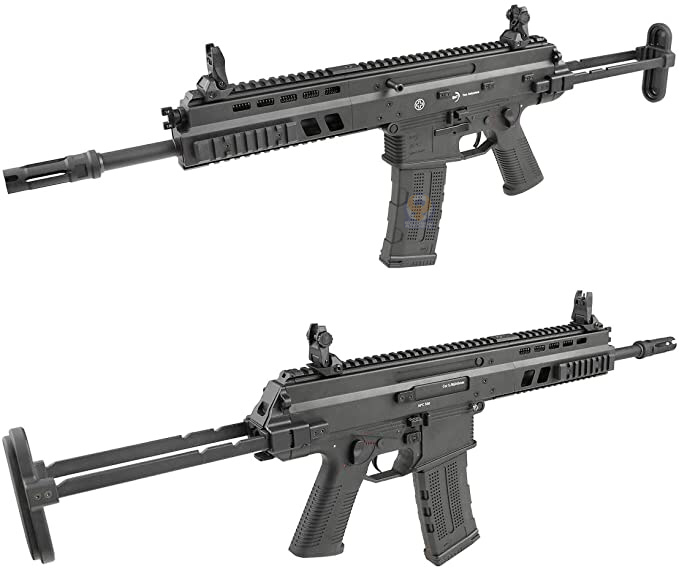 It looks like all of these improvements have been channeled into the B&T APC556-PDW replica, with the end result looking like its on par with the offerings from the big boys in the game. Watch the video below for further details and a closer look.
DE has stated that other models of the APC556 line will be getting released soon as well, and we will definitely be keeping an eye out for those! In the meantime, the APC556 PDW AEG is starting to hit the market now – for example, we found them in stock at Octagon Airsoft.