The M96 Expeditionary Rifle / Carbine was designed along the lines of the Stoner 63 Weapon system and was designed so that it could be built as a carbine, rifle, top fed, or belt fed weapon.  Robinson Armament Co. made the M96 from 1999-2005 in carbine, rifle, and top-fed magazine configurations.  It was very reliable, but quite expensive to manufacture due to its design.

During its initial period of production the M-96 developed an extremely loyal, almost cult-like, following among firearms enthusiasts – and they have been clamoring for its return ever since Robinson Armament stopped manufacturing the rifle in 2005. As we reported a couple of weeks ago, Robinson Armament revealed at SHOT Show 2020 that they would be bringing back a limited number of M96s this Spring. Today they got in touch with additional details.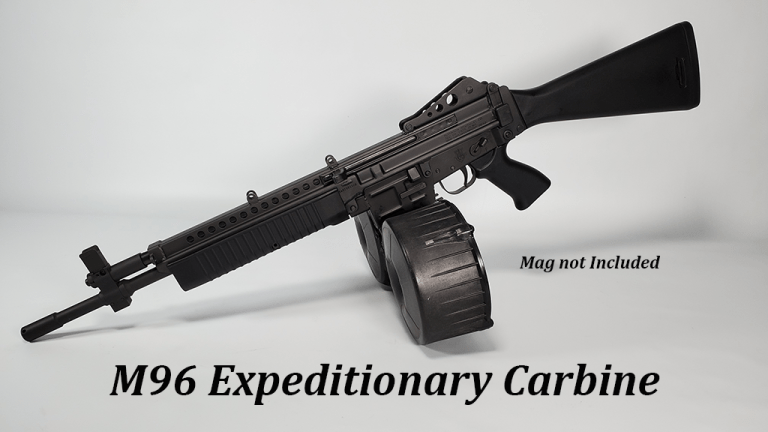 At the end of 2019, the company began going through their remaining M96 parts inventory, with the intention of doing another run of complete rifles, as well as kits. They are currently cataloging what parts they have, figuring out how to acquire the missing parts. This will enable them to determine how many rifles and kits they can build – but it will most likely be a very limited number. Nonetheless, the company says it intends to offer the M96 in carbine, rifle, and top fed configurations. They say they may also offer it in a belt fed configuration, but cannot definitely promise that at this moment in time.

Some facts that the company has confirmed however, are that they will offer 14.7″, 16″, 18.6″, and  20″ barrels, the barrels will be chambered to the .223 Wylde specification (so they will feed both civilian .223 and military 5.56mm ammunition). The new M96 barrels will have feature muzzles with common threads for aftermarket flash hiders, muzzle brakes and suppressors.

So, if this has whetted your appetite you're probably wondering how you can get your hands on one of these new Stoner 63 tribute acts, and how much it will set you back. The first part is easy – Robinson Armament simply want to get a "show of hands" count via names and phone numbers at this point. As far as how much you'll have to potentially shell out to actually secure one of these for yourself, the company says it will be $2,495 for a complete carbine or rifle, and $3,995 for a complete top-fed version (if you want to purchase the top-feed kit on its own, that will set you back $1,495).  They do not have dealer pricing at this time. That's certainly not cheap by any means, but you are talking about a very small production run of a high-quality, unique, rifle – all of which makes the cost of manufacturing much higher than for an AR-15 for example.
For an in-depth look at the M96 from back in the day, check out this video from Iraqveteran8888:
Please visit Robinson Armament for further details about the re-launch.