It's no secret that SIG-SAUER USA is like an unstoppable juggernaut of very impressive new products that just keeps winning in every category they operate in. On the defense market front, one of their most interesting and innovative new offerings is the company's .338 Norma Magnum (MG-338) medium machine gun.
As a quick reminder, the .338 Norma Magnum cartridge was first developed as a long-range shooting "wildcat" cartridge by the American sport shooter Jimmie Sloan with the help of Dave Kiff, owner of Pacific Tool and Gauge. The cartridge was standardized and readied for commercial sales by the Swedish firm Norma in 2008, and then put into production and launched to the market in 2009. In 2010 the cartridge was officially registered and safety certified internationally. During this same time frame, the US government conducted an official market survey to identify new cartridges and platforms for long-range precision shooting that offered better performance than the standard traditional 7.62x51mm NATO round. Jump forward several years, and several things came together that really started to give this cartridge traction within the US military.
In 2019 the U.S. Special Operations Command awarded Barrett Manufacturing a $50,000,000 contract, for their MRAD chambered in .338 Norma Magnum, type classified as the MK-22 Advanced Sniper Rifle (ASR).
Also, back in May 2017 SOCOM, in conjunction with the United States Marine Corps, issued a Sources Sought Notice for 5,000 Lightweight Medium Machine Guns (LWMMG) chambered for .338 Norma Magnum polymer-cased ammunition. The goal was to identify a possible machine gun with a 24 inch barrel that weighed 24 pounds or less, and was capable of delivering effective fire against hard targets at ranges up to 2,000 meters (2,187 yd). By comparison, the maximum effective range of an M-240B machine gun firing 7.62x51mm ammunition is 800-1100 meters (875-1,200 yards).
SIG's MG-338 was developed in response to this SSI and was first revealed at the AUSA trade show in October 2018. The gun immediately created loads of interest among the firearms press and defence news community – and the privilege to get behind one at SIG's Range Day during SHOT Show 2019 served to generate a lot of enthusiastic reports.
Jump ahead to this year, and it was announced a few weeks ago that the MG-338, its ammunition, and its suppressor had all been successfully safety certified by the US SOCOM – easing the way for the likely adoption of the system by SOCOM in the near future.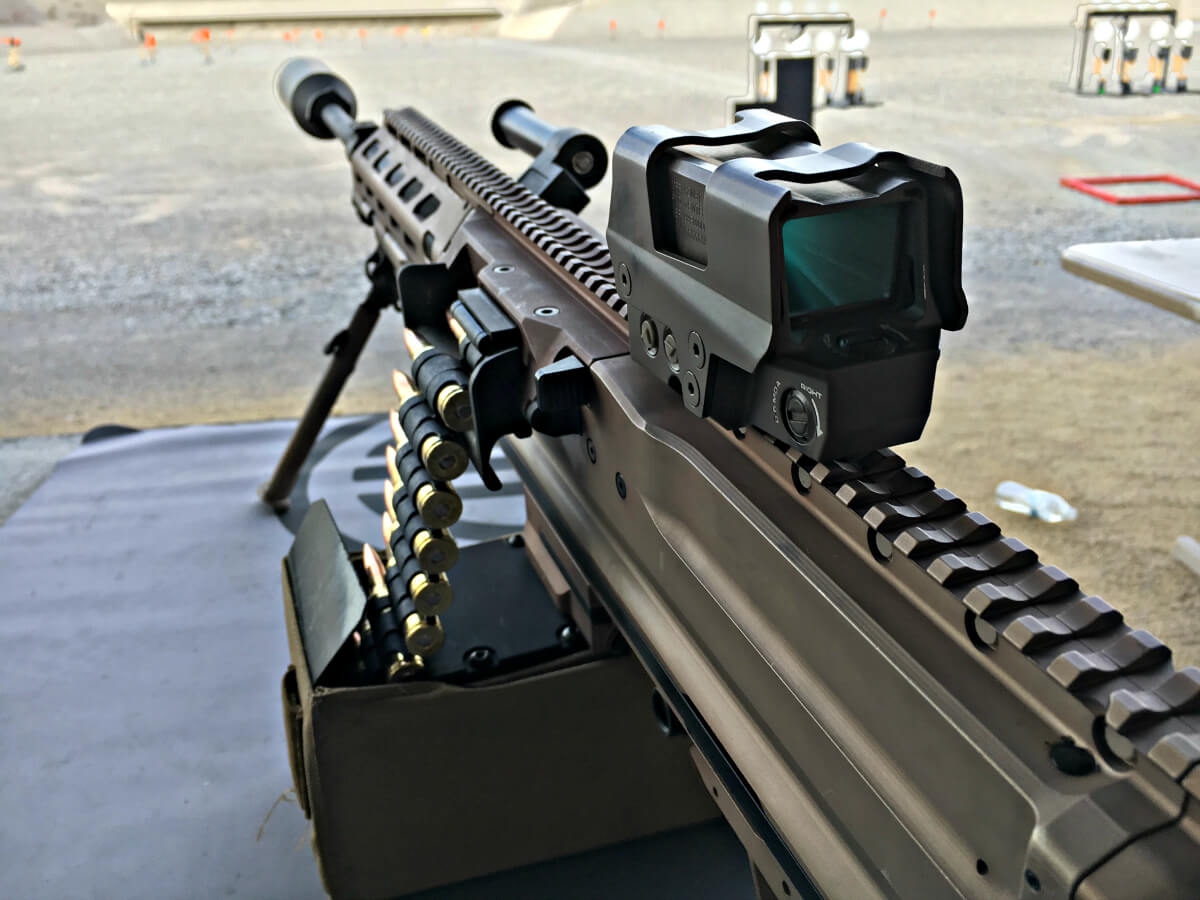 The MG-338 was also featured at SIG's Range Day at SHOT Show 2020 of course, and the crew from "Guns America" got a chance to get up-close and hands-on. Read their report, and/or watch their in-depth video presentation.
Photos: copyright GunsAmerica.com 2020