And now for something completely different – our friends at BCB International had a rather special visit recently. Could this mean there's a Royal Warrant in their future?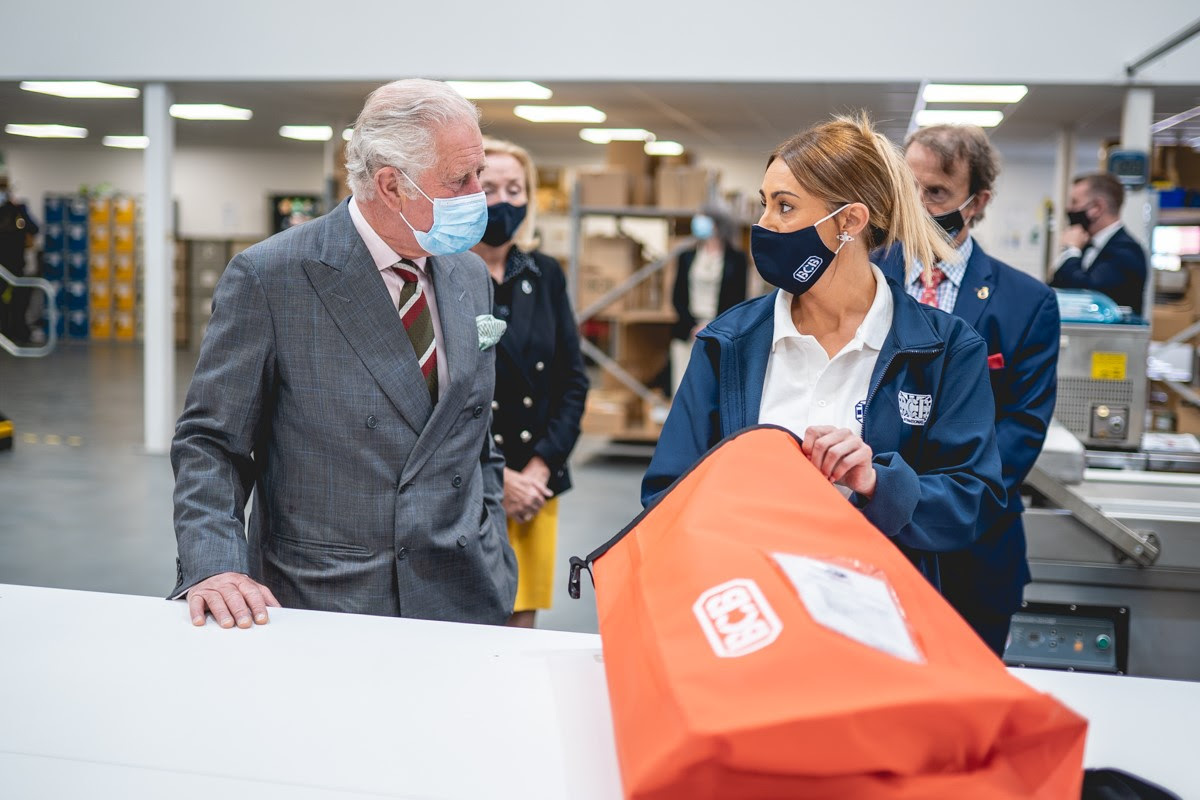 His Royal Highness The Prince of Wales (Prince Charles) visited BCB International on May 14th, to thank staff for their incredible work during the COVID crisis and to officially open the new headquarters. After having received a bottle of hand sanitiser from the company during Lockdown, The Prince then accepted Andrew Howell's invitation to visit BCB's facilities.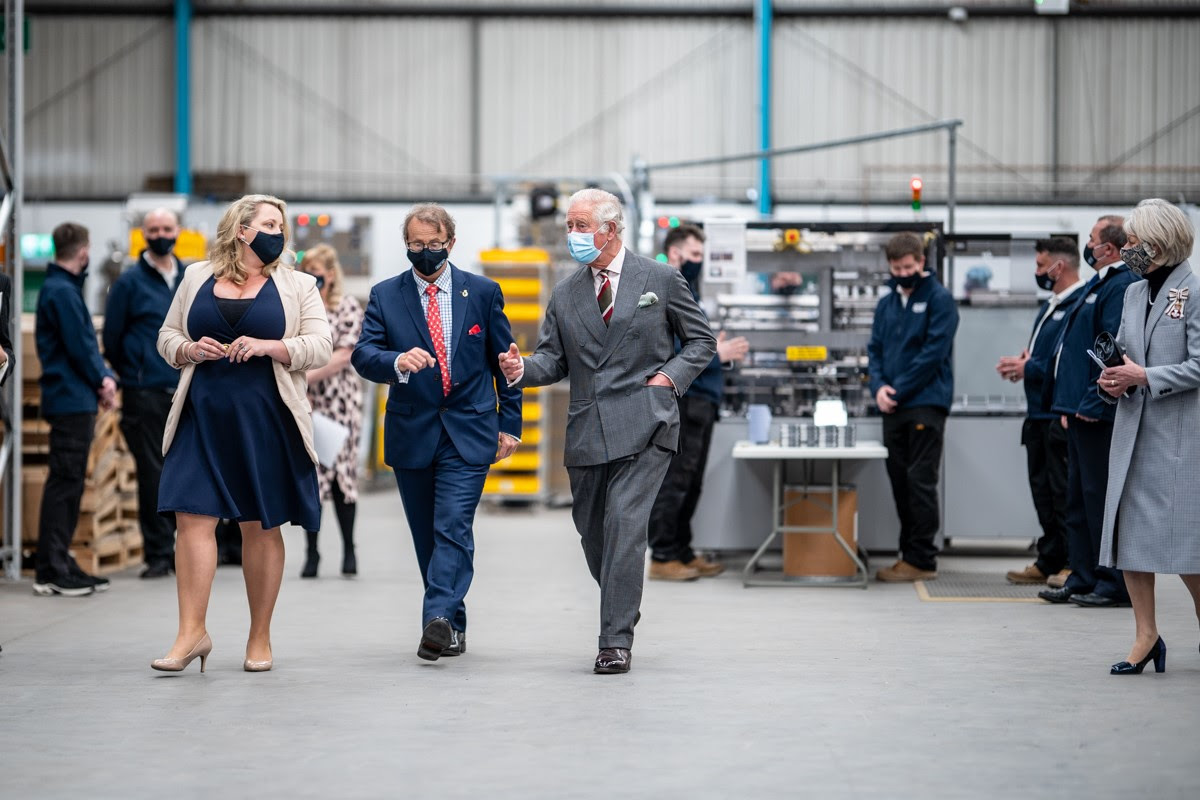 BCB International dates back to 1854, when Dr. Brown developed a cough medicine that was distributed to the British troops suffering in the trenches of the Crimean War. Dr. Browne's Cough Bottle company then became BCB Ltd in 1914. In 1949, BCB Ltd was bought by Deryck Howell, a Cardiff Chemist as a wholesale pharmacy to supply his chemist shops. The current CEO, Andrew Howell, joined his father at BCB Ltd. in 1979 and led the company into manufacturing the world's first life raft survival kit. Andrew continued to develop this side of BCB's business, and in 1979 he set up BCB International, to focus on designing and manufacturing survival equipment. The company then went on to develop an array of unique survival products including shark repellent, first aid kits, ballistic protective underwear (dubbed 'Blast Boxers'), camouflage cream, and floating body armour.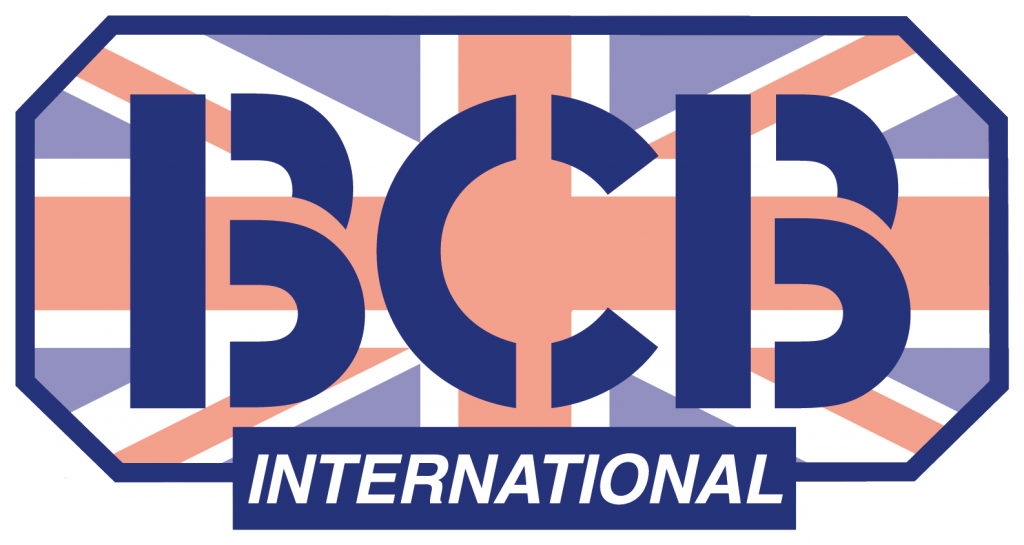 Today, BCB International supplies to mainly government departments (including the MoD, police and MoJ), as well as blue-chip companies in the defence and marine markets in 52 countries worldwide. BCB's retail and humanitarian sectors also continue to grow, building relationships directly with consumers and countries who need to survive in the extremes and when affected by natural disasters.
Last year, BCB's primary focus shifted to developing life saving equipment for the battle against the Coronavirus, including an 80% proof anti-bacterial and anti-viral hand sanitiser named in honor of the original "Dr Browne's". BCB has been working closely with the NHS, police forces, and with governments around the world, to supply their essential PPE needs. The company also recently donated 25,000 face masks and 10,000 full-face protective shields to Yemen.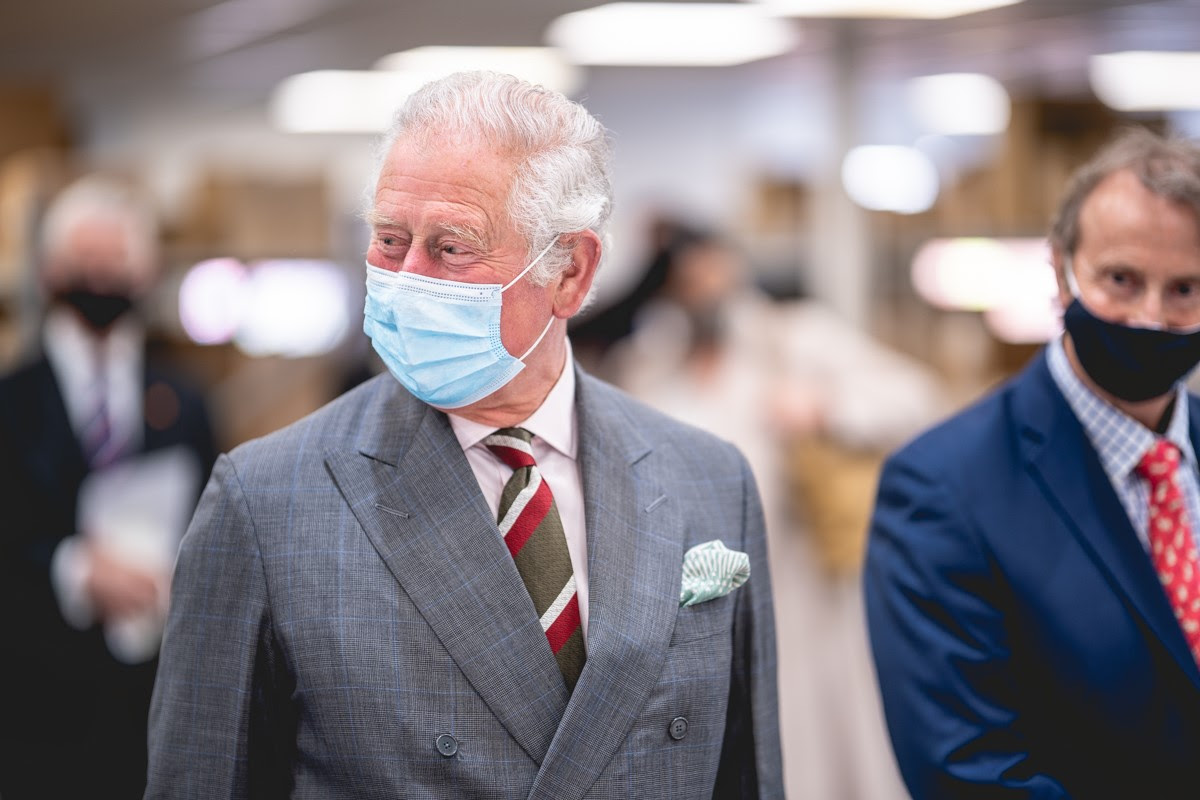 In welcoming Prince Charles to the company, CEO Andrew Howell remarked: "Last year our terrific team here at BCB, both at our Llanelli and Cardiff sites, worked 24/7 producing hand sanitisers and other important PPE and so it is a tremendous privilege to welcome His Royal Highness, the Prince of Wales here today to BCB."
Prince Charles started his visit by touring the main headquarters, meeting the BCB team who have been working tirelessly throughout the pandemic providing PPE to the Welsh NHS, Police Force and sending thousands of donations around the UK and across the world.
His Royal Highness then joined BCB's team, packing a Polar Survival Kit for an Artic bound vessel, before cutting some of BCB's IR reflective camouflage netting for dispatch to Prisons around the UK for finished production before heading to the British MOD.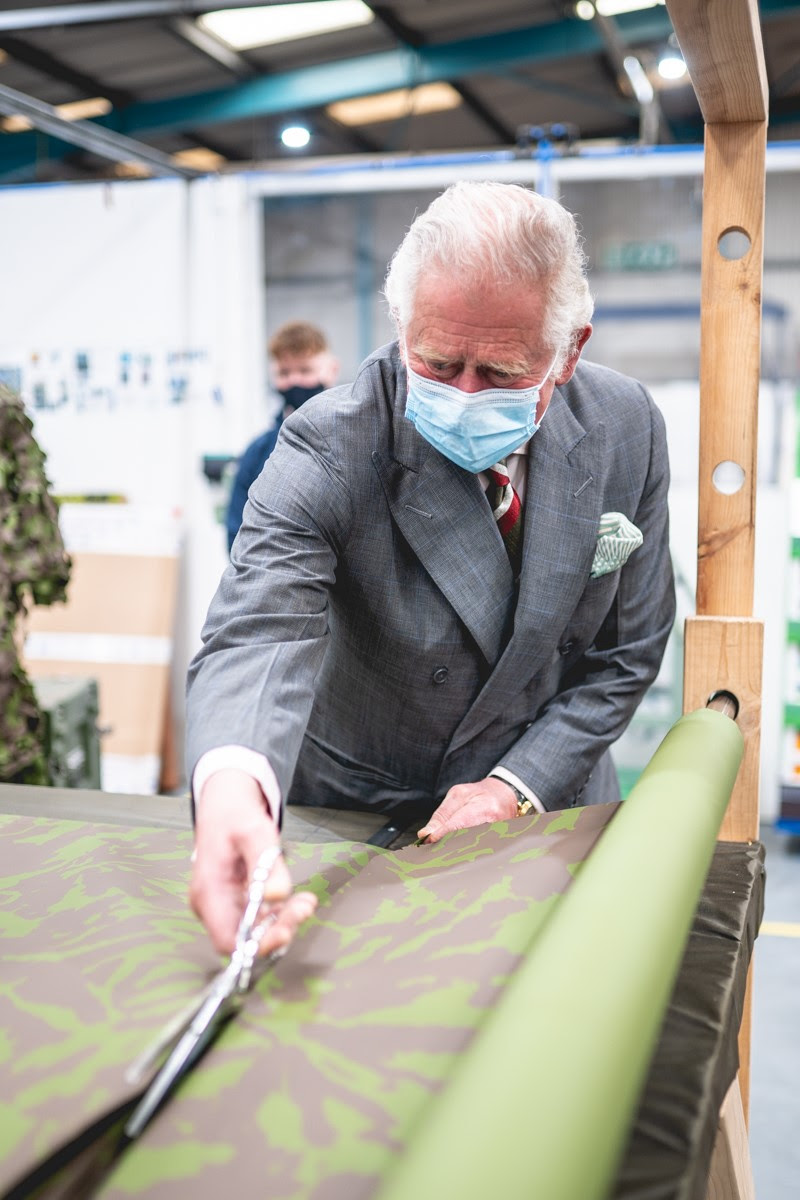 After a demonstration of the eco-friendly, all weather fuel, FireDragon, His Royal Highness used a flint and striker to light his own block of FireDragon before officially turning on the FireDragon production machinery and receiving the first product off the band. FireDragon was created to replace the dangerous Hexamine blocks that the British MoD were using. It is now the fuel of choice for the British MoD, being a non-toxic, clean, green fuel with a high burn point which is easy to light – and has waterproof properties.
BCB International CEO Andrew Howell had this to say about the company's FireDragon product: "For the last five years we have been producing this solid fuel tablet made from bio-ethanol used by British Troops to warm their rations and heat their drinks. And as the fuel has anti-bacterial properties, we were able to quickly develop a hand sanitiser gel variant for the fight against COVID."
Upon receiving of his own supply of FireDragon, H.R.H. Prince Charles commented: "I shall now be able to go way and start fires with my FireDragon. Having served in the Royal Navy all those years ago, nearly 50 years ago, I had to go on exercise with the old kit, this is remarkable."
The Prince of Wales then joined BCB's Managing Director, Andrew Howell, on stage to unveil the plaque officially opening BCB's new headquarters at Howell House, and to receive survival kits that the BCB team specifically made to suit the Royal family's interest. Before leaving he visited the 'Bee C Bee's Wellbeing Garden', which was created as part of a Mental Health Awareness week initiative to provide access to nature for all staff.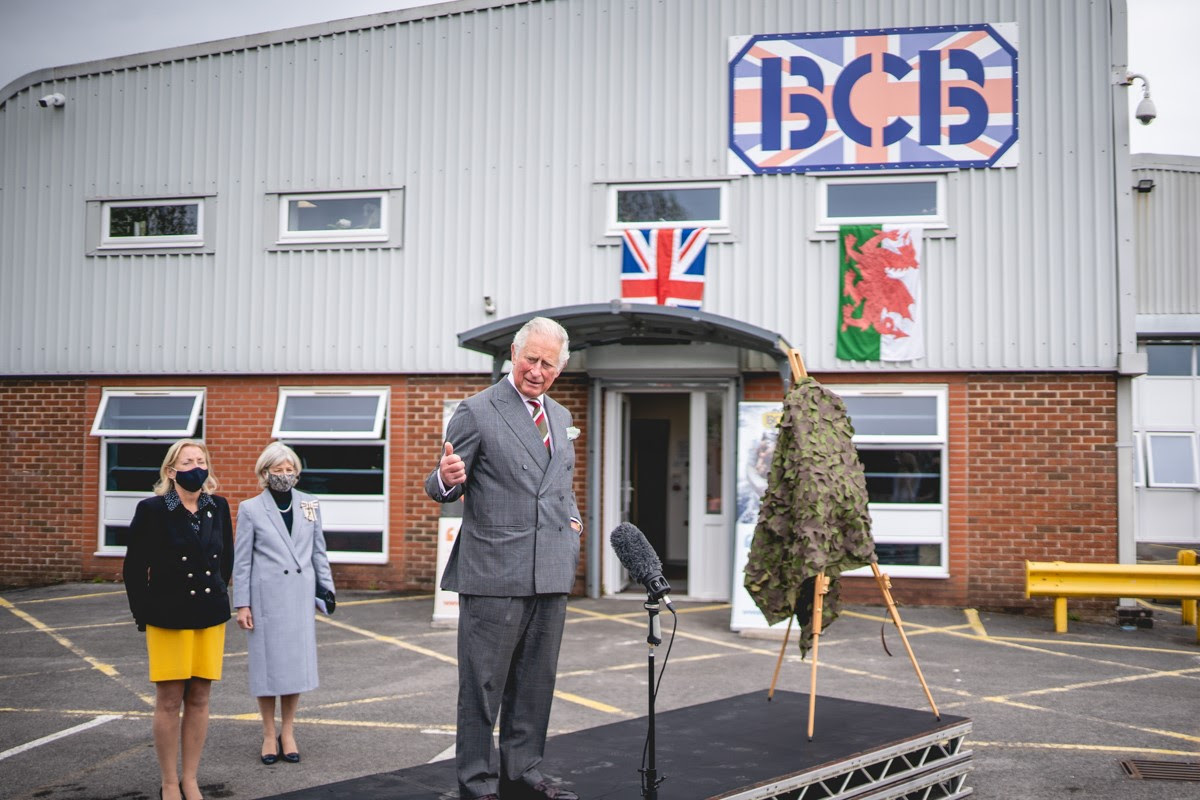 In his remarks to staff, Prince Charles commented: "I'm thrilled to have this opportunity to be with you today and I can't tell you how much I admire all the remarkable work you do here. I know how hard you worked throughout this pandemic…I do congratulate you and am full of gratitude, for what its worth, for what you've been able to do, for all of us, really, during these difficult times. I hope you go from strength to strength, and I shall look forward to seeing what other wonderful ideas you come up with over the next few years."
BCB International Cardiff is a family-owned Business and well established designer, manufacturer and supplier of protective, medical and survival equipment to the defence outdoor and marine markets. The entire BCB team was honoured to meet The Prince of Wales and hear his appreciation for their hard work during the pandemic.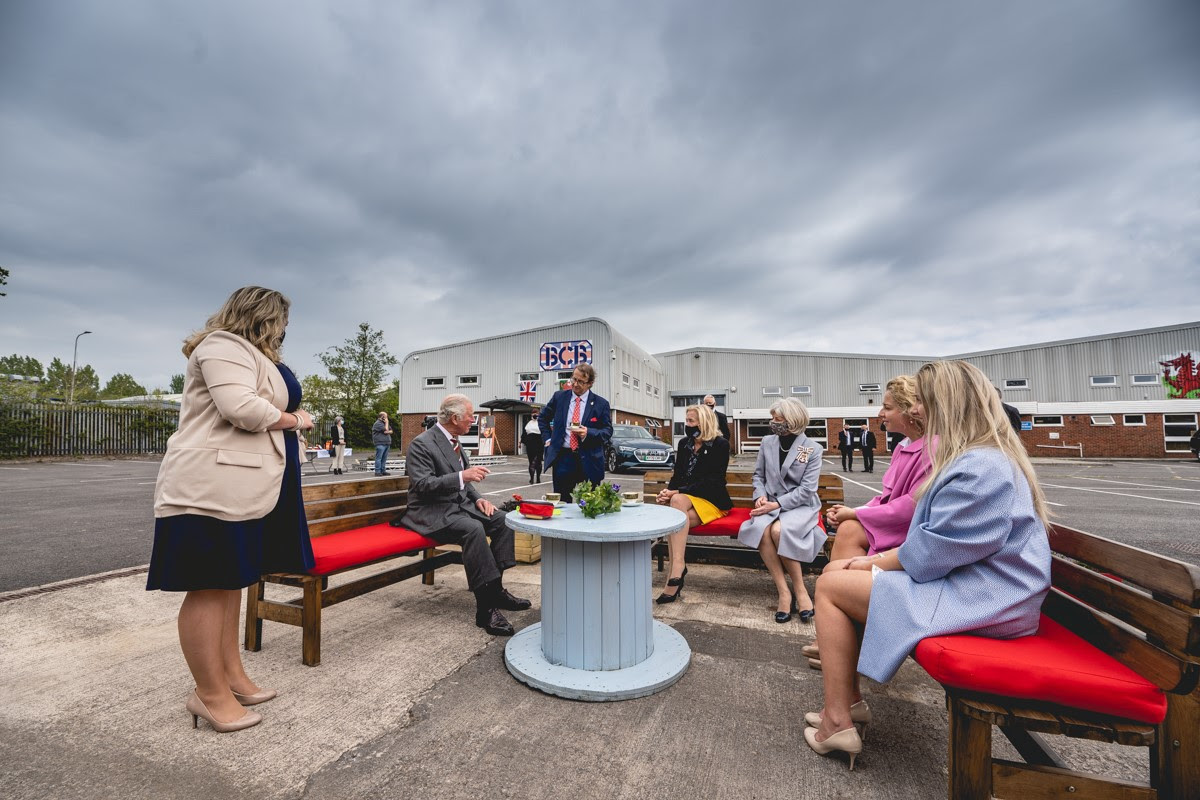 Summing up the importance of the visit from Prince Charles, Andrew Howell commented: "As His Royal Highness has said for over 4 decades, climate change and the erosion of biodiversity are the two greatest threats to humanity and our planet. As we have with FireDragon and some of our other life saving innovations we are ready, willing and able to take a risk and to make a change to try to help counter these threats. Our new factory here in Cardiff will help to ensure that sustainability continues to be at the heart of our DNA.""