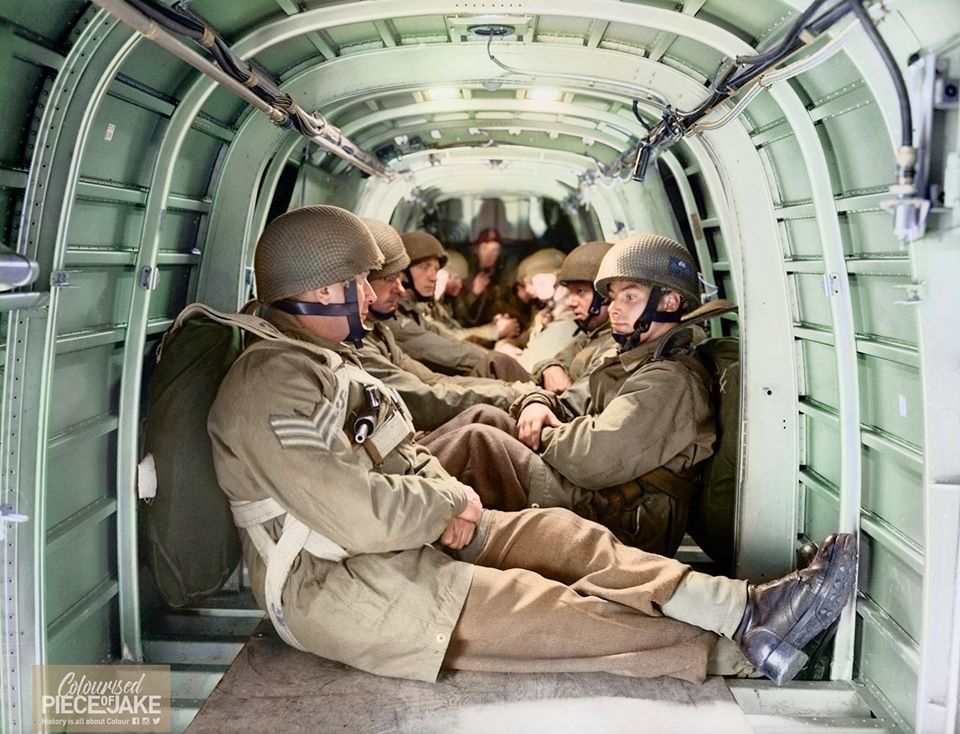 British Paratroopers inside the fuselage of an Armstrong Whitworth Whitley aircraft during training at RAF Ringway, Manchester, August 1942. The Whitley was the RAF's largest bomber at the outbreak of war. In 1939 it soon became obsolete due to its slowness and vulnerability.
It was then handed over to Airborne Forces, who used it for parachute training until superseded by the Albemarle and C-47. The Whitley could carry 10 parachute soldiers with a radius of action of at least 500 miles. However its suitability for parachuting was regularly questioned and the eventual availability of more suitable transport aircraft later in the war led to it being phased out.
For parachuting, the rear turret was removed and a circular aperture fitted with hinged doors was cut in the floor. Sitting with their feet in the hole, parachutists would launch themselves through the exit on the Parachute Jump Instructor's command. As the hole was nearly three feet deep inexperienced parachutists were liable to smash their face on the opposite face of the floor opening, an event known as "ringing the bell". The effect of ringing the bell was dependant on the strength of the head strike but included bruising, broken noses, black eyes, and concussion as many Ringway students will testify!
The Whitley's greatest claim to fame as a parachuting platform is that the airborne assault parties for the raid on the Tragino Aqueduct in Italy in 1941 and the Bruneval Raid in February 1942 were both dropped from converted Whitley bombers.
Colour: Colourised PIECE of JAKE
Caption: adapted from; paradata.org.uk/article/whitley-bomber