As you no doubt know, this week has been an amazing series of very special events to mark the occasion of the 75th anniversary of the D-Day landings in Normandy, France during WWII. For us old airborne types, there were none better than the mass-drops from the fleet of C-47 Dakotas that was especially assembled for this year's commemorations.
Among the lucky jumpers who got to participate in these events was my old mate Dave Grover in the UK. Dave's experience also had an added element of interest, prior to the actual "D-Day 75" activities he was among those who participated in the filming of the "Guy Martin's D-Day Landing" program for Channel 4 in the UK.
In Dave's own words, and photos, here is his reflection on that experience – and the special significance of it:
May 21, 2019
I did a very special thing yesterday. A group of 13 of us from the Round Canopy Parachute Team – representing the 1st Battalion, 502 Parachute Infantry Regiment, 101st Airborne Division – took off from the original US Troop Carrier airfield at Membury in Wiltshire in a WW2 veteran C47 Dakota,with an authetically attired aircrew. We flew across the channel,passing the Needles of the Isle of White, before jumping into the area of St Germaine Du Varreville, behind Utah Beach, beside causeway No 4, where troops of the US 4th Infantry Division came ashore on the morning of June 6th.
Why did we do all this?
As a complete geek when it comes to the 101st Airborne, it was the accurate recreation of the one-way journey many young men took 75 years ago. That's what drove me to do this.
Gearing up,being weighed down with parachutes, life-jacket, equipment, helmet, etc. – and the reality that there was a jump at the end of a long flight – transported my mind back to what it must have felt for the real guys of the Airborne divisions.
Never once during this re-enactment could I relax, until I knew I had done the best job I could if representing those men.  And I apologise to my fellow jumpers for my nagging about helmet markings, nets, kit, making people swap 82nd patches for 101st, changing leg ties, and all the other details of that particular unit! I'm sure I pissed you off, but the result is that the pictures look great, and as authentic as possible!!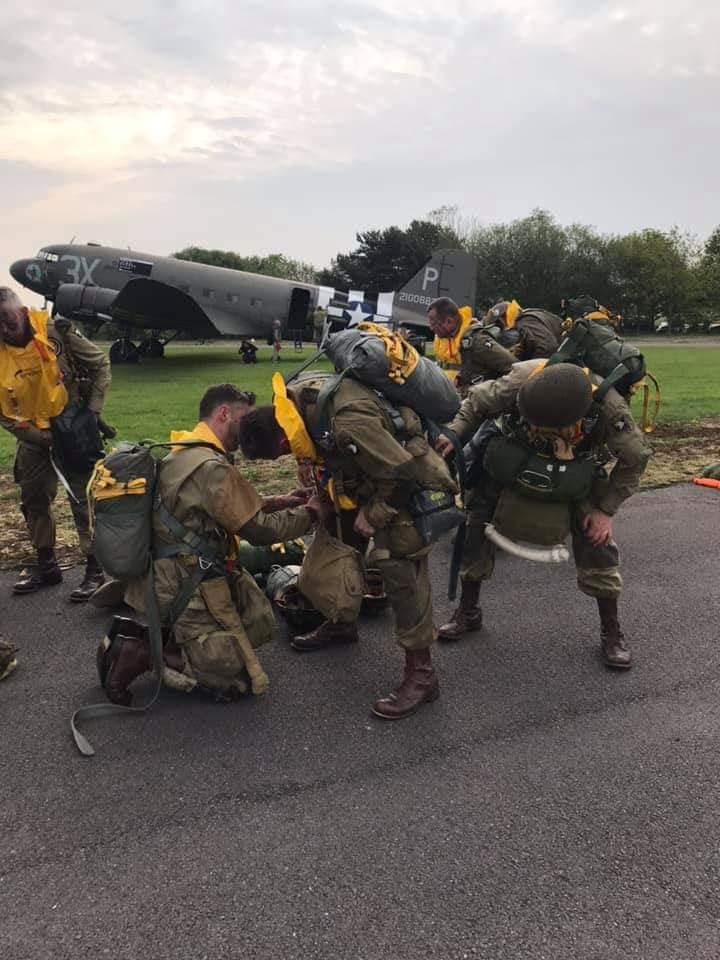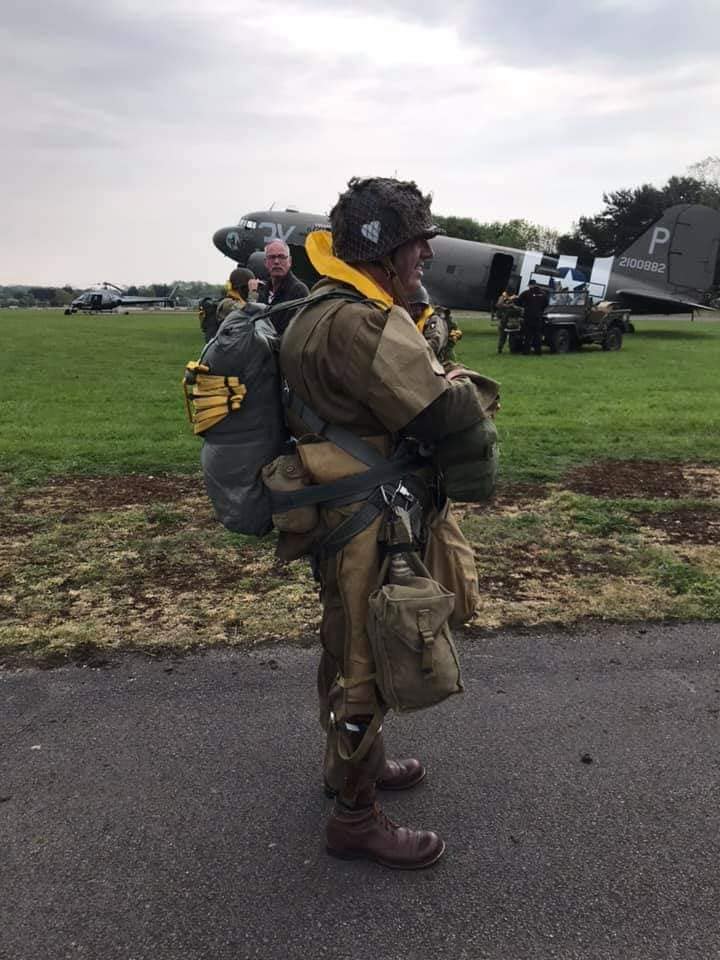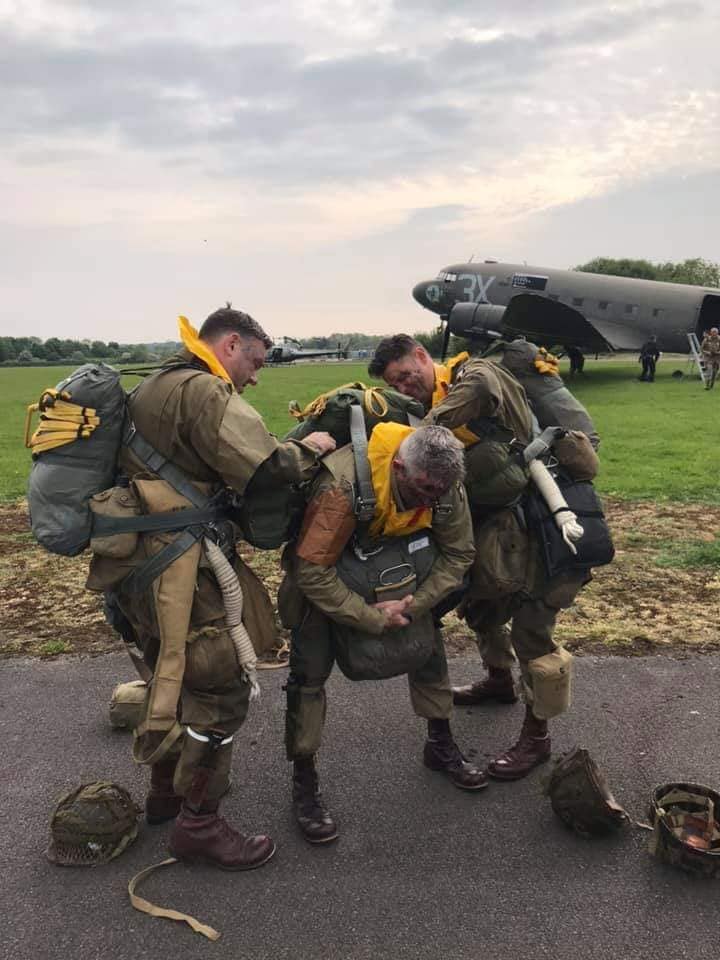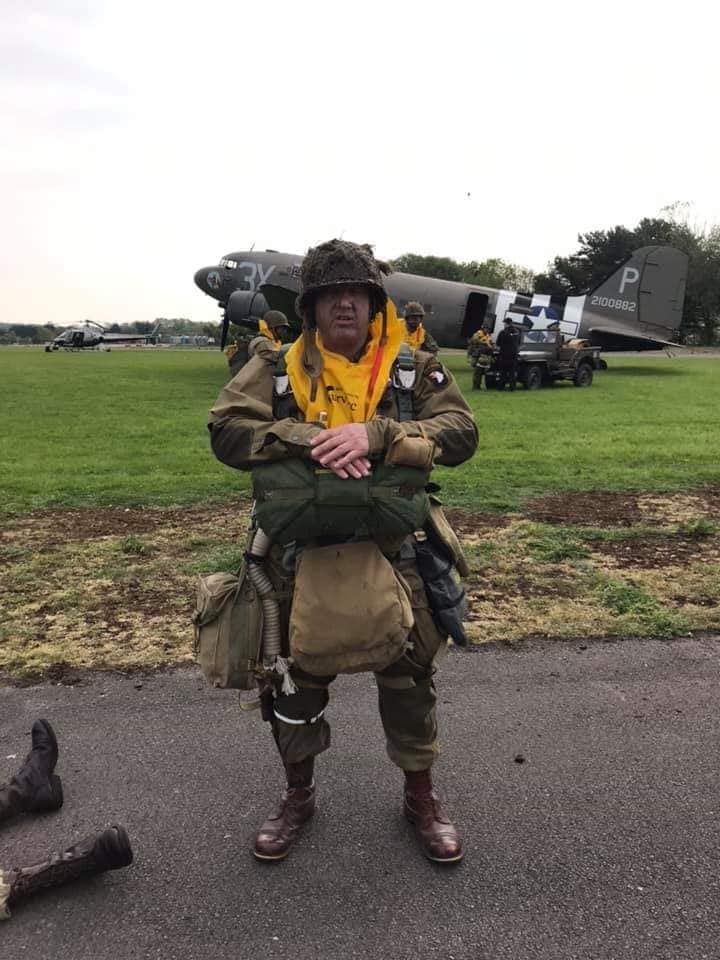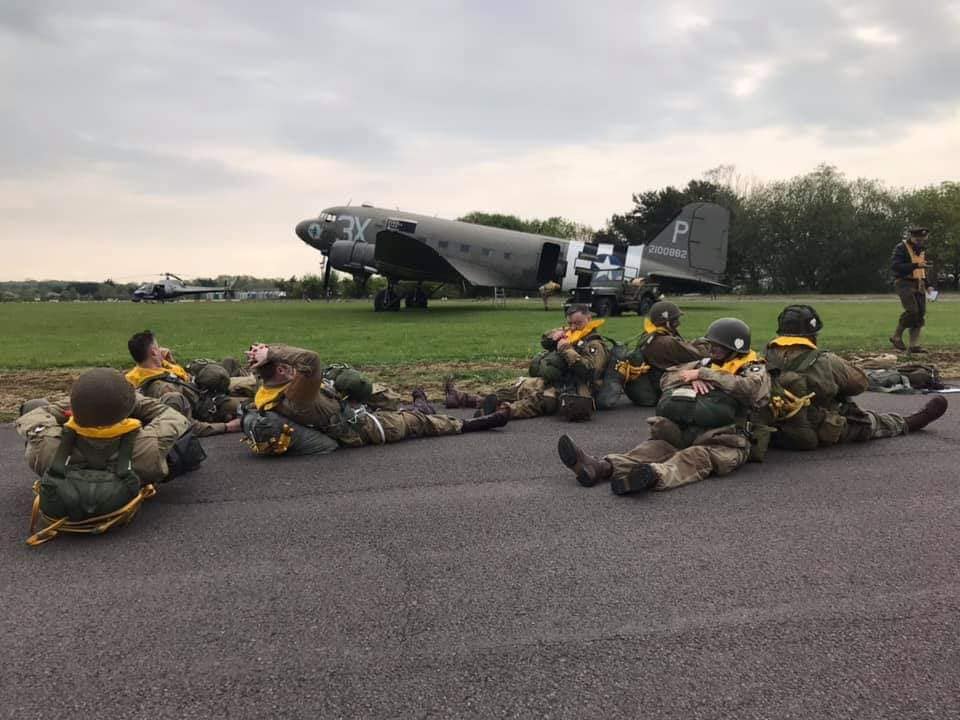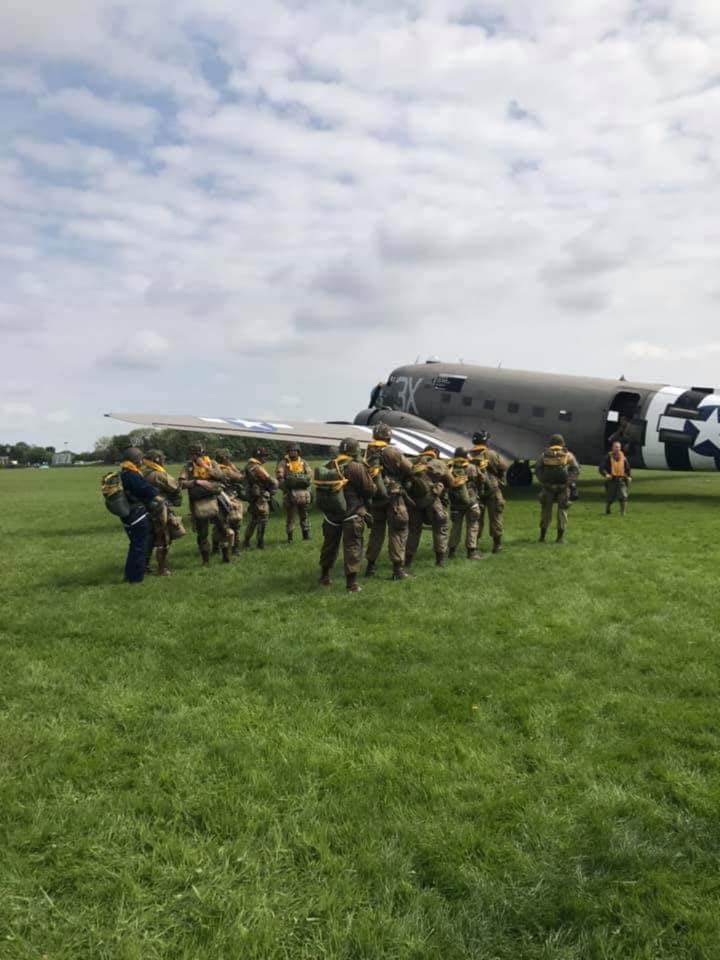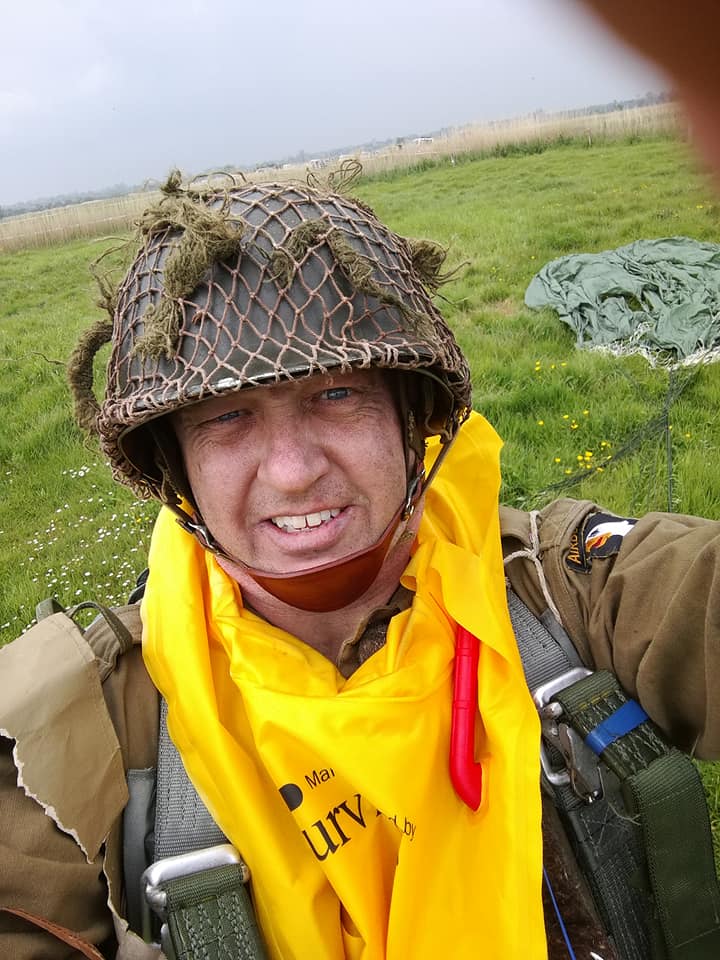 When it was all done,I couldn't help but sit back and just think what had been achieved – a real Tribute to those who didn't return from Normandy. 
– Dave Grover
If you didn't, or couldn't, catch it the program on the TV – here is a link to watch the Guy Martin Program online (you will to have a UK address in order to create an account to be able to watch): https://www.channel4.com/programmes/guy-martins-d-day-landing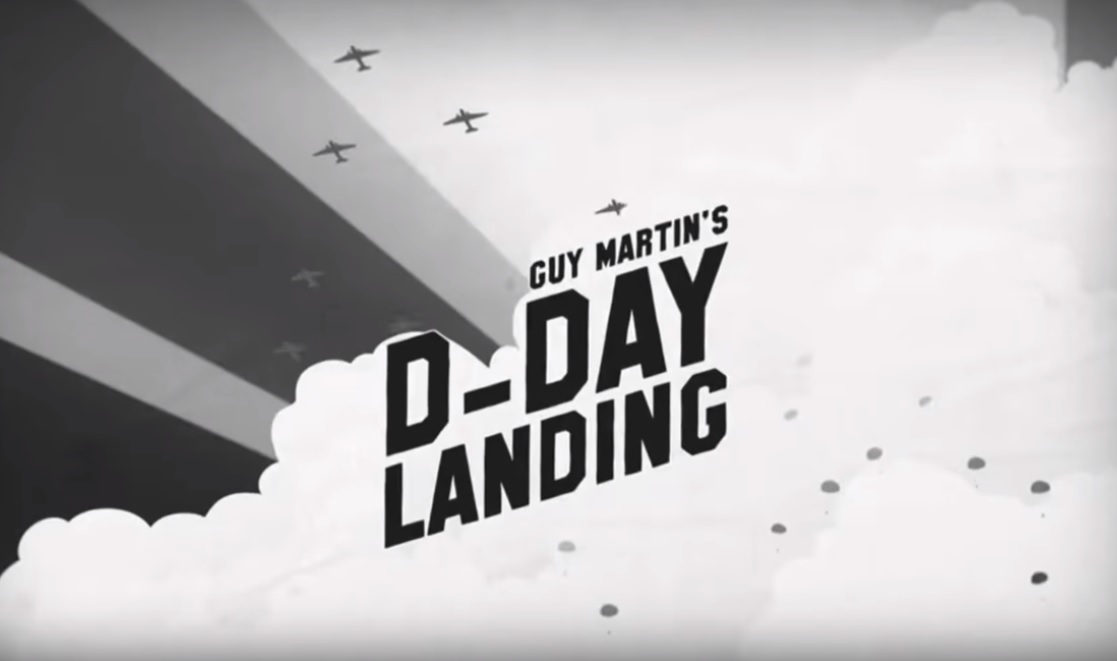 And if you miss that, you can also check out this clip on YouTube of Guy tackling the Parachute Regiment's unique Trainarium challenge: https://www.youtube.com/watch?v=KVQmbnpopjc