Introducing the newest option on the most ergonomic striker fired handgun available, the VP9-B in 9mm. Retail priced at $719, the VP9-B offers a new US-style reversible push button and utilizes the same magazines as the other VP9 Series. The new push-button style mag release option from HK means the VP doesn't just fit your hand, it fits your shooting style as well.
In any firearm, especially a handgun, the many "touch points "between the shooter and the firearm are critical to consistent, repeatable, performance. Now, no matter how you are built or how you shoot, the VP series just fits.
Depending on your shooting style, you can choose between a European-style ambidextrous paddle mag release or the new US-style reversible button. This determination must be made at time of purchase, as the two models are not convertible.
The most ergonomic, adaptable grip frame available allows you to interchange both back-straps and grip panels in 27 unique configurations to fit your hand.
The VP trigger is a real upgrade over the industry standard of many years. It has a short, light take-up with a solid, clean break; followed by a short, positive reset.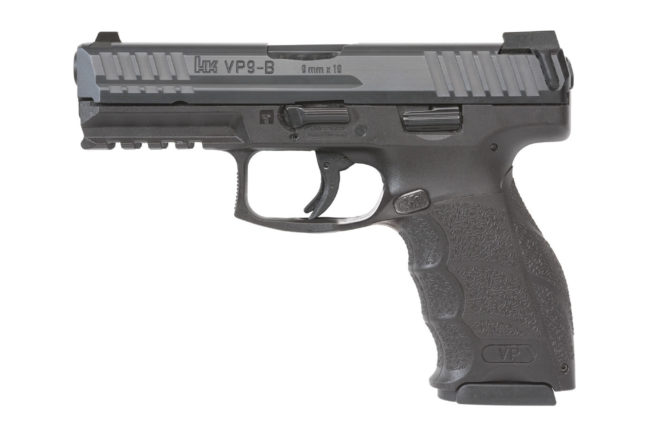 VP9-B models are made in HK's Oberndorf factory in southwest Germany using all of the company's advanced barrel manufacturing technologies and high level production of their machined steel slides, polymer frames, and all internal components. HK VP pistols are competitively priced and covered by Heckler & Koch's lifetime warranty.